UPDATE!
Nu några månader senare när alla gamla OG Air Jordan modeller har ökat till sjuka priser på StockX så har StockX skrivit ett inlägg om just vilka skor som bärs i filmen.
Jag kommer att klistra in deras inlägg i botten av mitt.
******************
Jag försökte vänta med att se sen tills alla avsnitt var ute, riktigt så länge kunde jag inte hålla mig.
De två sista avsnitten släpptes igår, och jag såg precis slutet.
En mycket mycket bra dokumentär..
Även om man inte var basketintresserad på 90-talet, eller ens någonsin, så tror jag att alla kan tycka att denna miniserie (eller vad det kallas) är riktigt bra.
Jag tycker att det är ett MÅSTE att en sån här dokumentär kommer fram idag, så att folk kan iallafall förstå en uns av vilken stor man Michael Jordan är.
Nu var det visserligen BARA fokus på sporten, men Michael Jordan var och är så mycket mer än så, en av världens mest kända och älskade människor, en tid innan Youtube, Instagram osv.
Ska man korta ner det så mycket som det bara går, så var Michael Jordans världens bästa anställda.
Han chockerade med sin professionalitet gång på gång på gång, om och om igen… frisk, sjuk, pensionerad, deprimerad..
Jag är så tacksam över att någon filmade laget under alla dessa år.
Jag är väldigt glad över att de flesta spelarna i laget fick sin del in the spotlight i denna dokumentär.
MYCKET bra att vi åter igen blev påminda om det som Jordan själv har sagt i alla år, "Without Pippen there would be no Jordan".
Michael Jordan Believes You Can't Mention Him Without Scottie Pippen
Den  mest  underskattade och underbetalade NBA spelaren någonsin.
En annan sak jag är glad över är väldigt otippad.
Jag är glad över att de inte ALLS tog med något särskilt om Air Jordan skorna.
Just för att visa att Michael Jordan var och är så mycket mer än en del i att designa snygga och tidlösa skor.
Men för oss som är intresserade av bilar, klockor och då såklart sneakers, nu kanske jag talar för mig själv, men jag ÄLSKADE dessa småglimtar som visade oss SEKUNDER av det vi älskar.
Jag såg många coola klockor bilar och såklart basketskor.
Trots att det inte var någon fokus på skorna alls, så har Air Jordan modeller nu ökat rätt så mycket i resellvärde på StockX..
Här är de skor vi kunde se i dokumentären.
OBS! Jag tar bara skorna som vi ser Michael Jordan bära.
Episode 1
Air Jordan 13 "He Got Game"
En av de mest legendariska färgerna av Air Jordan 13, som fick sitt smeknamn från filmen "He Got Game".
Mer om de skorna och klipp ifrån den filmen hittar ni i mitt Unboxinginlägg.
Nike Air Ship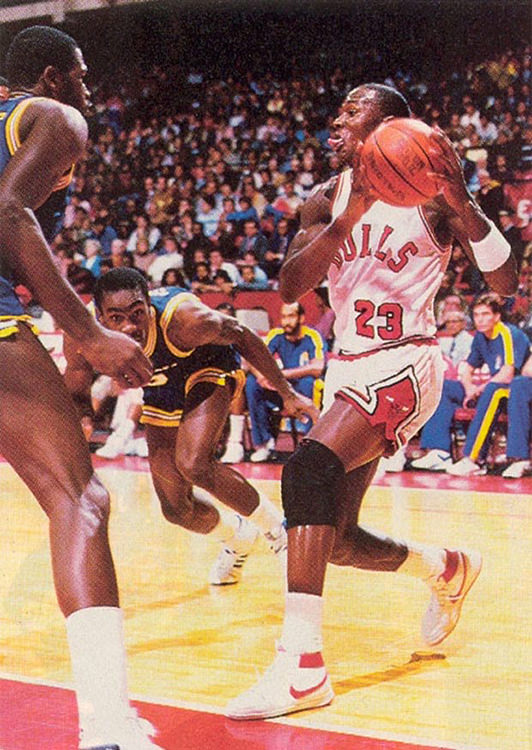 Skorna som MJ spelade i INNAN Air Jordan 1.
Skorna som blev bannade av NBA.
Skorna som hjälpte Air Jordan 1 att bli en succe.
Air Jordan 1 "Black Toe"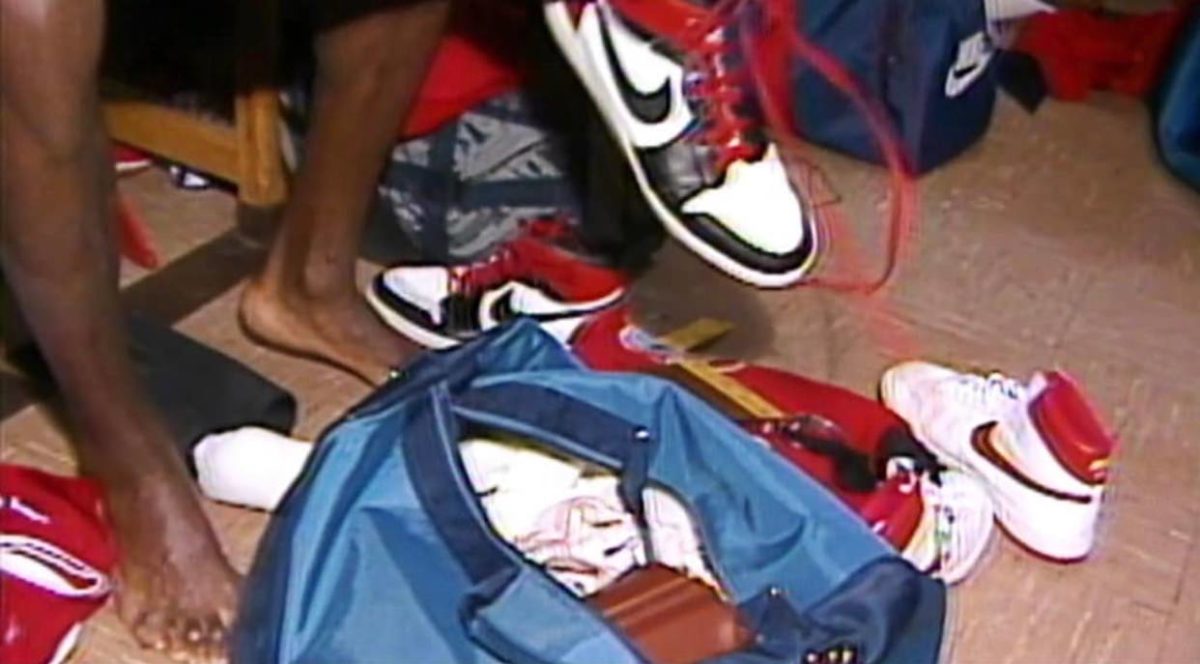 En väldigt klassisk colorway, nästan lika universal som "Banned" AJ1.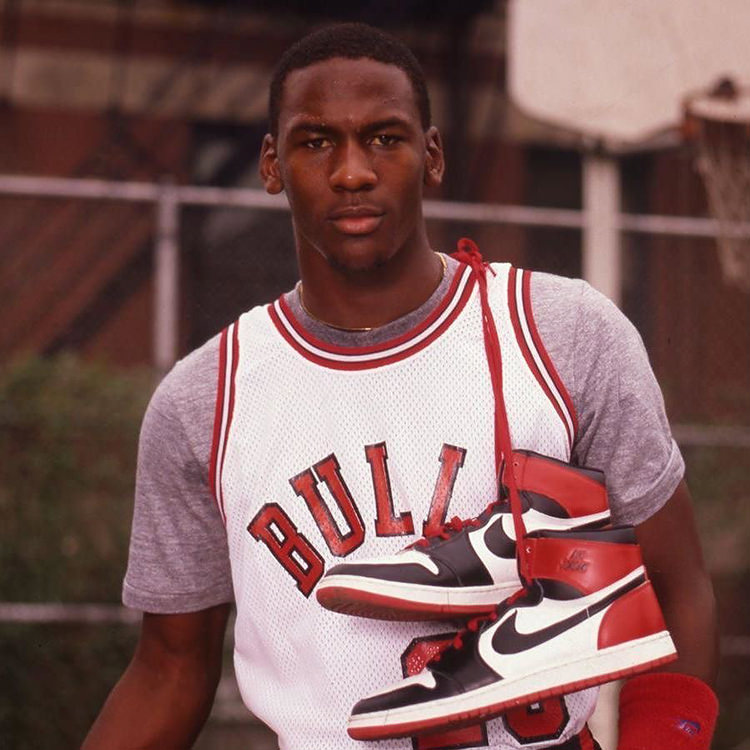 Detta är skorna som Michael Jordan bär på bilden som sen blev Jumpman loggan.
Jag är faktiskt osäker på om jag har skorna eller inte, jag tror det iallafall.
Här är ett inlägg med en massa bilder på skorna.
ShoeZeum Michael Jordan Wore Black Toe Air Jordan 1s In The Jumpman Logo
Air Jordan 1 "Banned"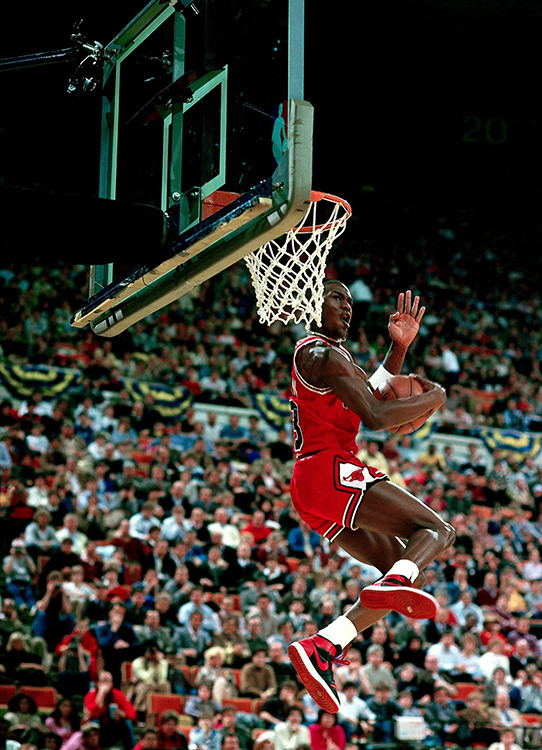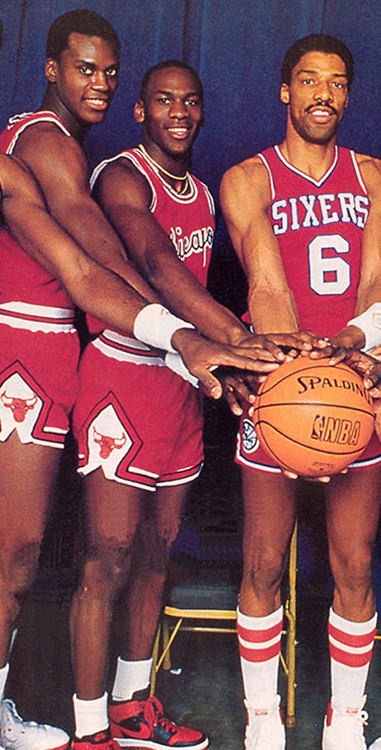 This is where it all started..

Allas "grail", oavsett om man redan har ett par eller inte.
Ingen samling är komplett utan minst ett par Air Jordan 1 "Banned"/"Bred".
Dessa skorna ger respekt direkt, de funkar till allt, och när man säger en tidlös modell så menar man dessa (eller Nike AIr Force 1)
Jag har MÅNGA inlägg om just denna version av Air Jordan 1, men jag tror att mitt 7 år gamla inlägg täcker det mesta och lite till.
Air Jordan 1 "Chicago"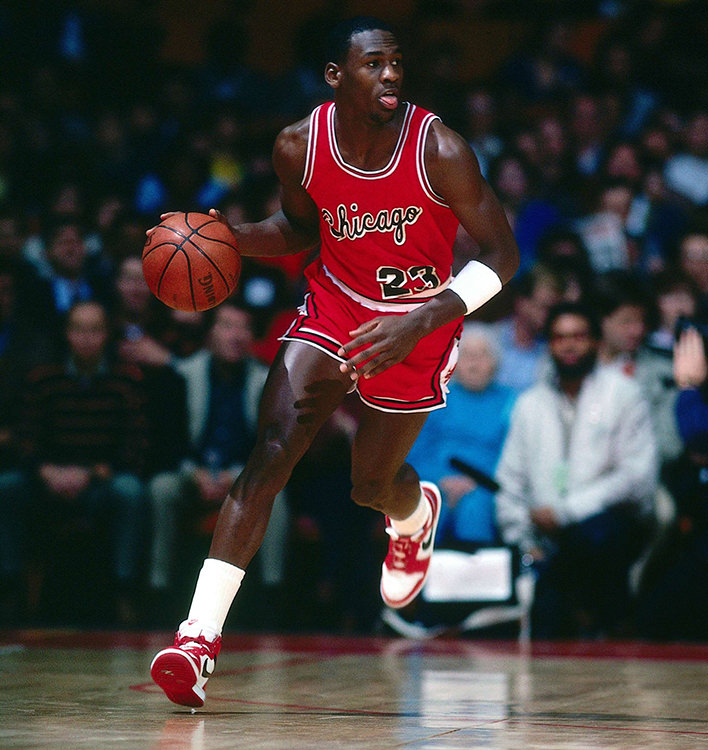 Ett par av dessa, använda och signerade av Michael Jordan, såldes nyss (igår typ) för 560 000 usd..

Air Jordan 11 "Bred"/"Playoffs"
Ännu en sko som alla vill ha i sin samling
Michael Jordan in the Air Jordan 11 "Playoffs" (Photo by Barry Gossage/NBAE via Getty Images)
Dessa ikoniska bilder på MJ när han gråter över den vinsten har vi sett många gånger..
Men jag har aldrig sett/hört videon….
Oj vad hjärtskärande… det för mig till tårar bara jag tänker på det…
Aj vad det gör ont i hjärtat..
Air Jordan 14 "Last Shot"
En sko som jag försöker gilla trots att den är svart.
Men just pga "The Last Shot" så vill man ju ha dem.
Air Jordan 14 : The Definitive Guide to Colorways / HISTORY OF THE AIR JORDAN 14
Air Jordan 11 "Concord"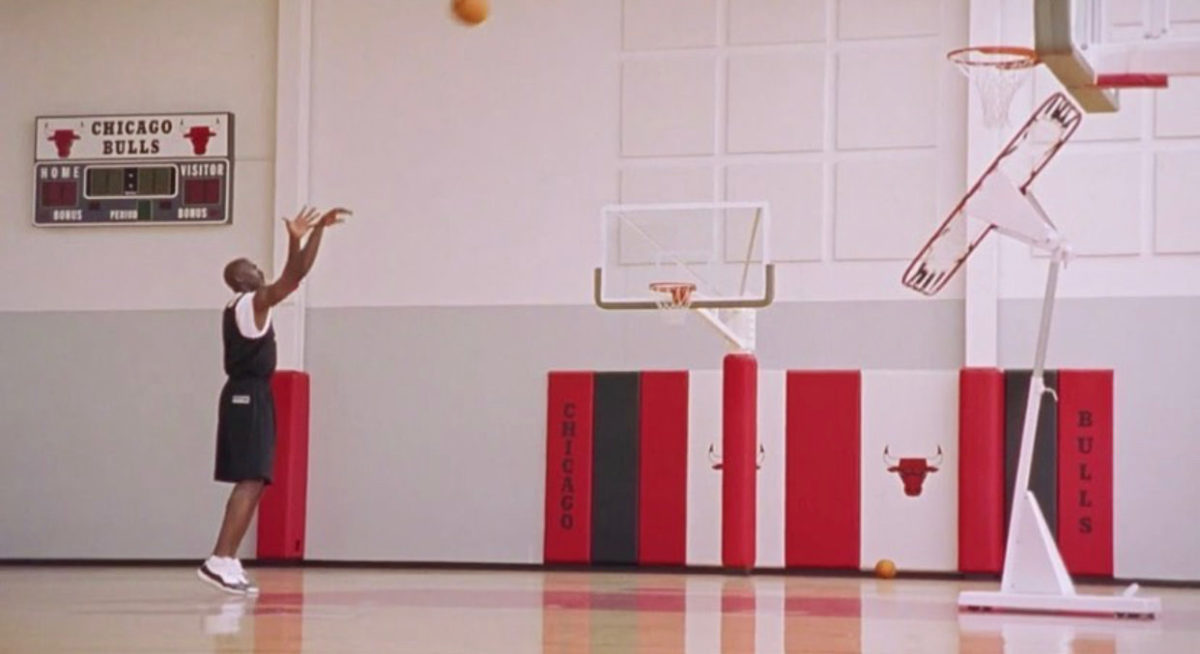 Alla älskar dessa…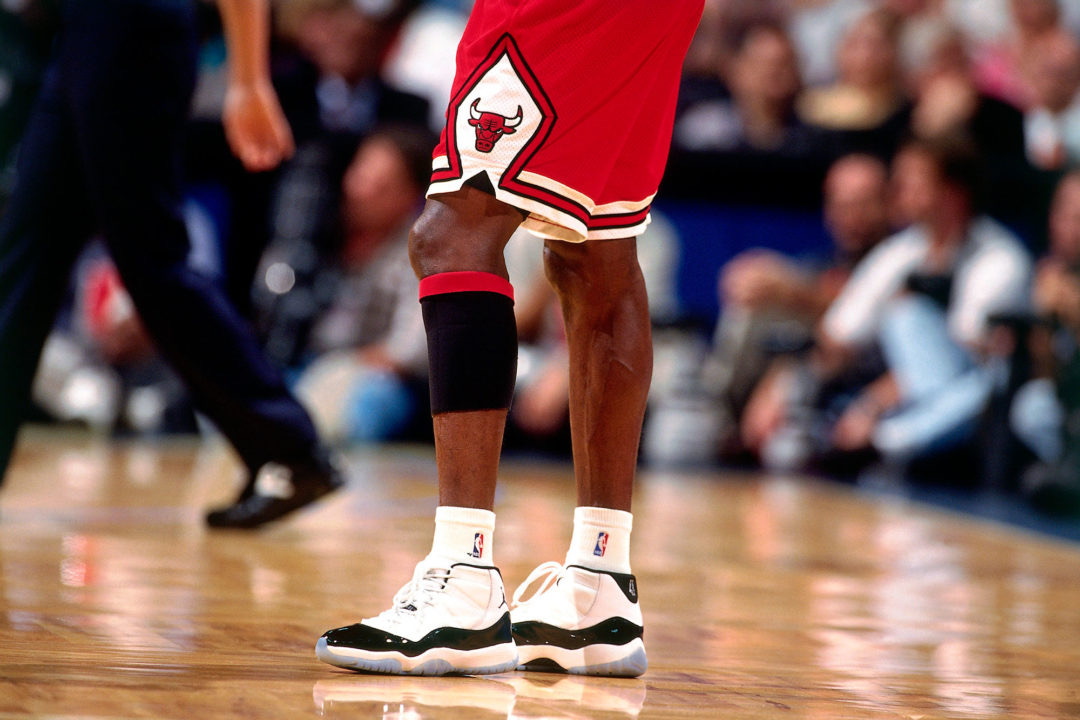 Michael Jordans mål med skorna var att göra ett par sneakers som var fina/lyxiga nog för att användas som finskor.
Och än idag så gifter folk sig i dessa skorna.
En gång i tiden världens mest hypade skor.
Skorna som gjorde världen galen för snart 10 år sedan, och som fick resten av världen att inse att folk kunde bli bokstavligen galna av att försöka köpa ett par skor.
Dagens Skolektion : Air Jordan XI / Samlade inlägg om Air Jordan 11
Michael Jordans favoritsko.
Tinker Hatfields favoritsko.
Behöver man säga mer än så?
I mitt inlägg nedan så hittar ni allt om dessa skor samt en massa coola skor på MJ med dem på sig.
Converse Pro Leather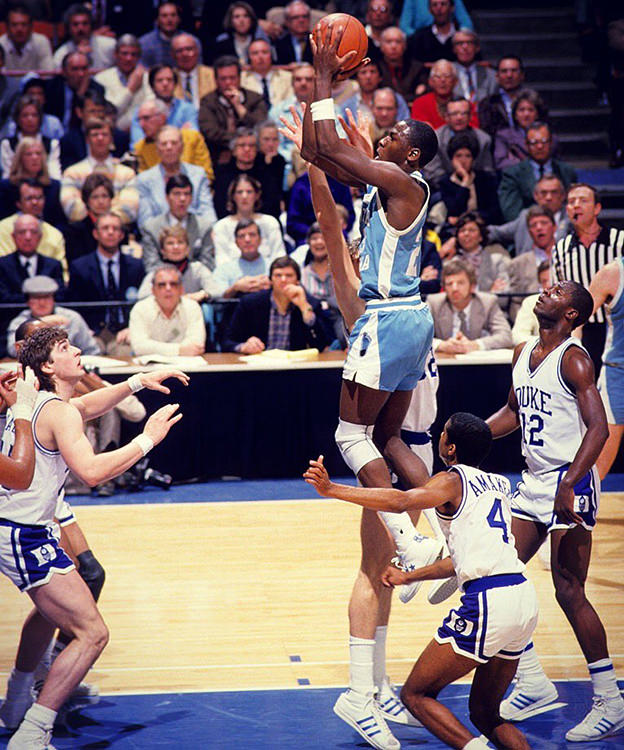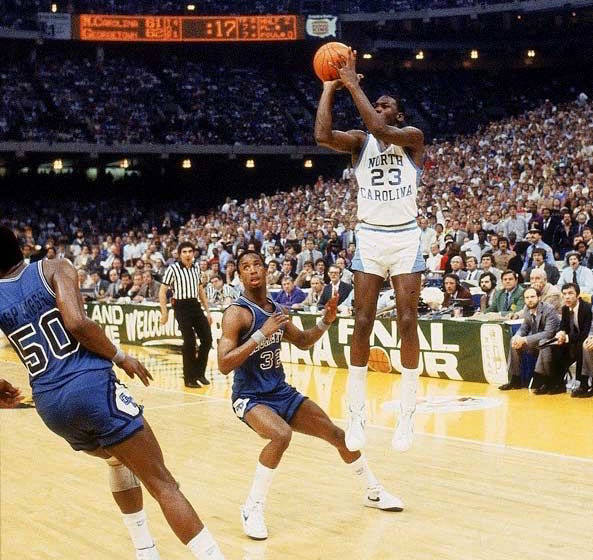 Skorna som MJ spelade i innan han spelade i Nike´s
Unboxing & Trying on the Converse Pro Leather Mid "UNC" 166813C – How are they in size?
Converse Star Player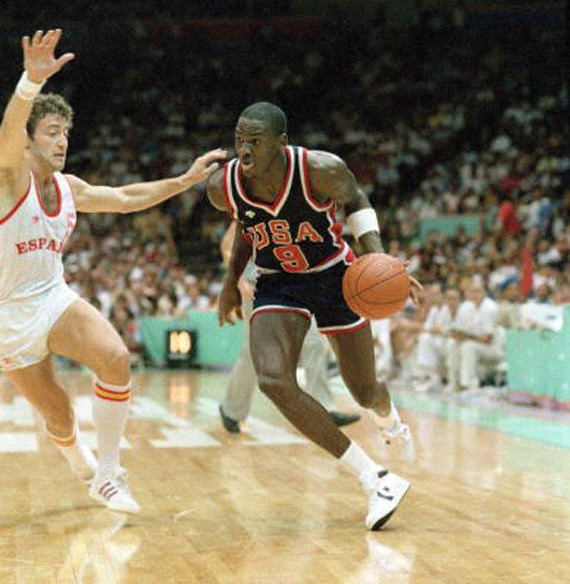 Air Jordan 5 "Fire Red"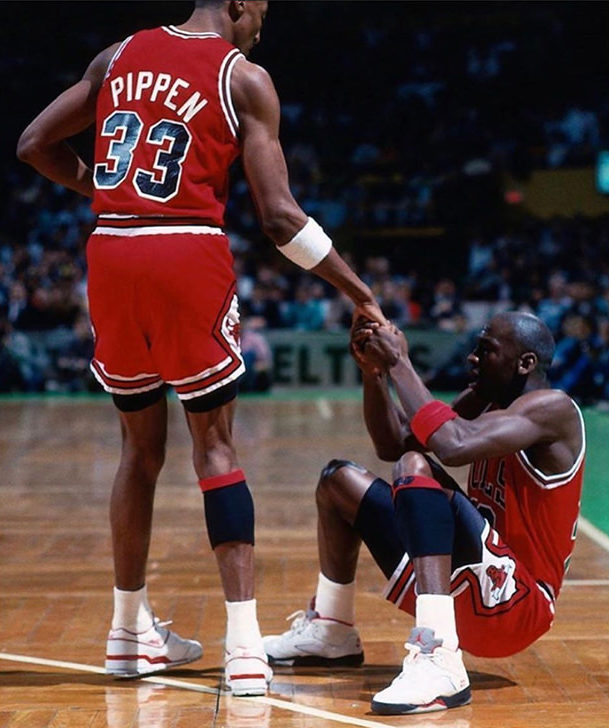 Om du gillar Air Jordan 5 men tycker att de flesta modeller är lite "för mycket", så är detta den mest cleana versionen.
Dessa släpptes faktiskt nu precis när de första avsnitten släpptes på NetFlix.
Episode 2
Air Jordan 3 "White Cement"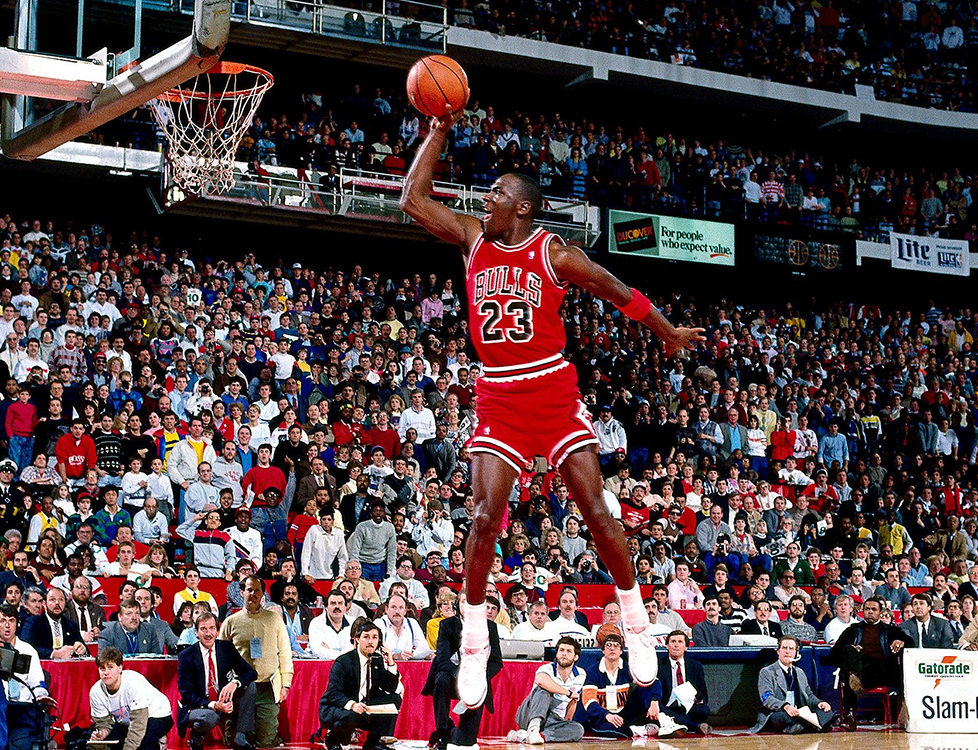 Ännu ett par skor som nästan är ett måste just pga en cool bild.
Nike Air Jordan 13 "Chicago"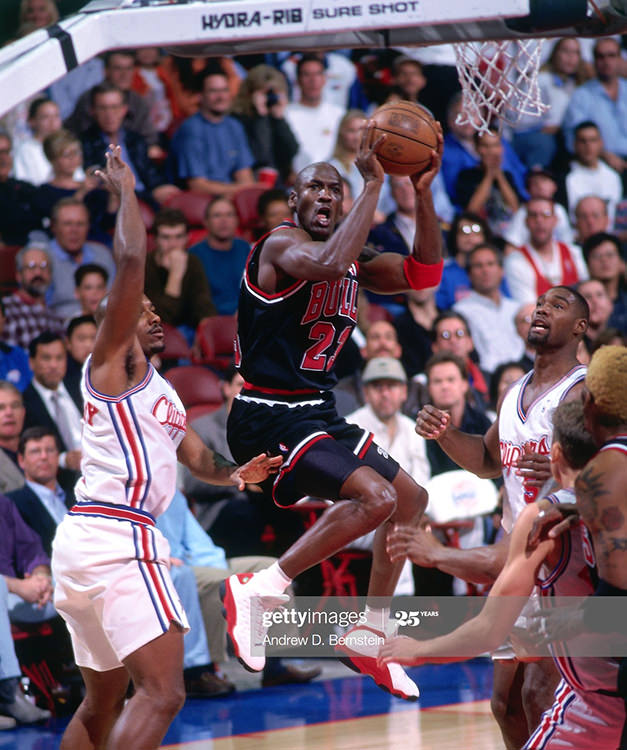 Jag har lite svårt för "polkafärgade" skor, men dessa gillar jag verkligen.
Jag är osäker på ifall jag har dem eller inte, jag borde ha dem.
Nike Enterprise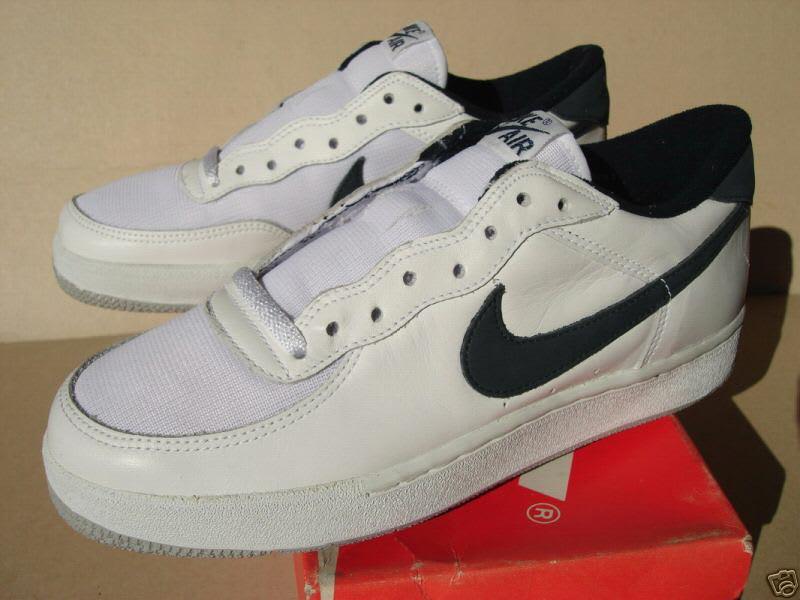 Air Jordan 1.5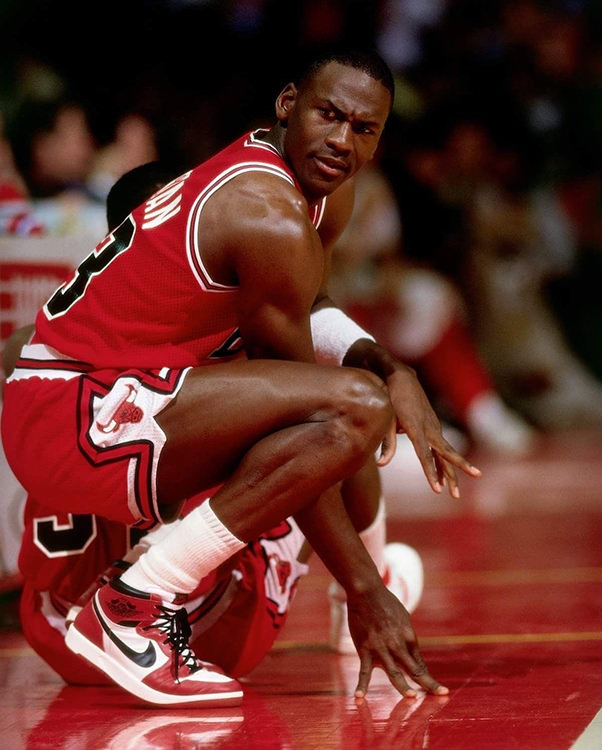 Jag har inte ett enda par av Air Jordan 1.5, och det stör mig mycket.
Alla de som släpptes för några år sedan var av "pläder", riktigt hårda..
Men jag gillar dem, släpp dem gärna på nytt med bra läder tack.
Air Jordan 1.5 är en Air Jordan 1 med en Air Jordan 2 sula.
Air Jodan 1 Strap "Chicago"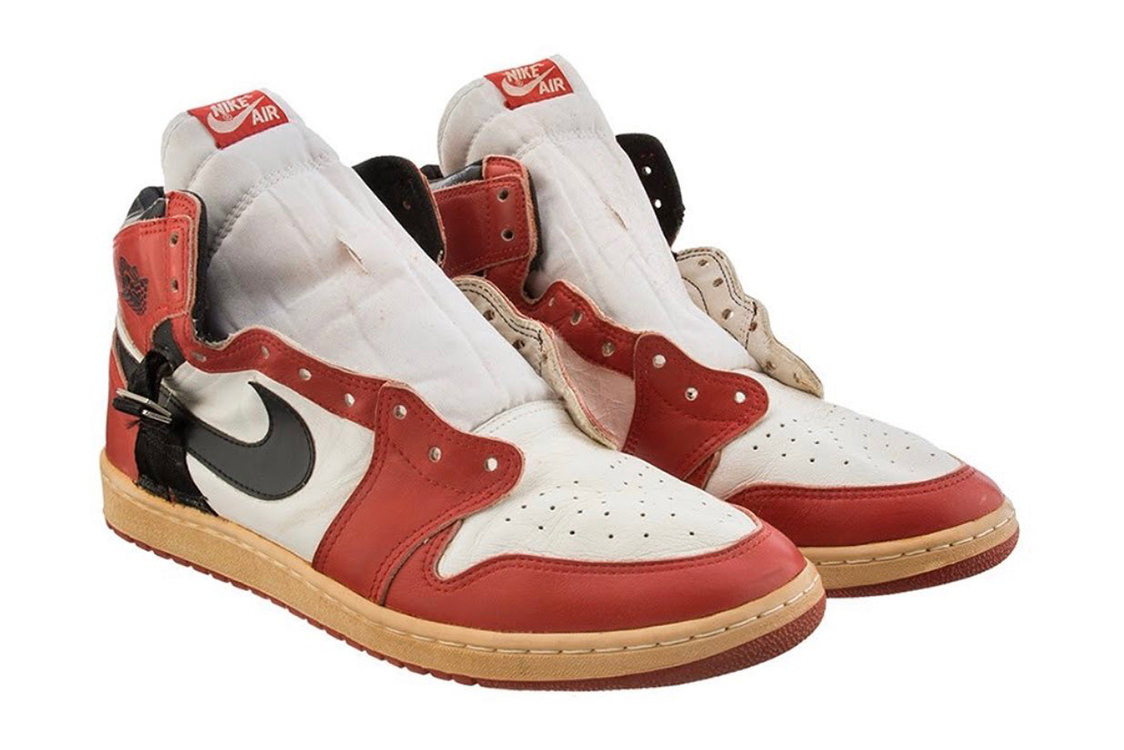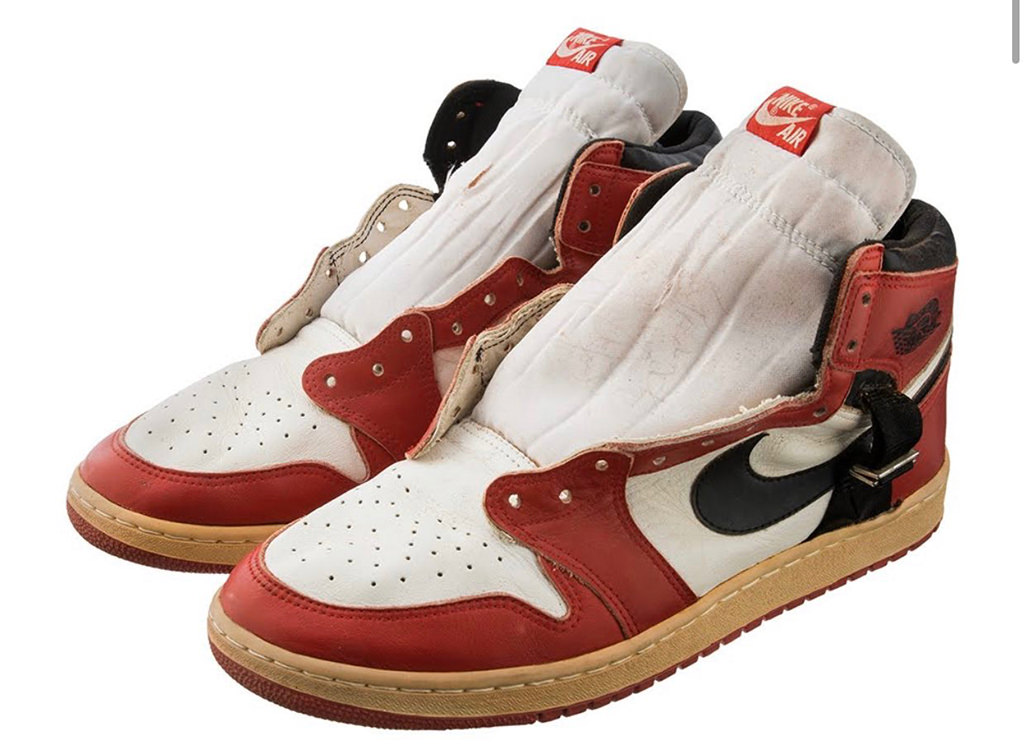 Till synes ett par vanliga Air Jordan 1, men med en extra rem för att hjälpa MJ komma tillbaka efter sin fotskada.
Air Jordan 1 "Chicago" (Dunk sole)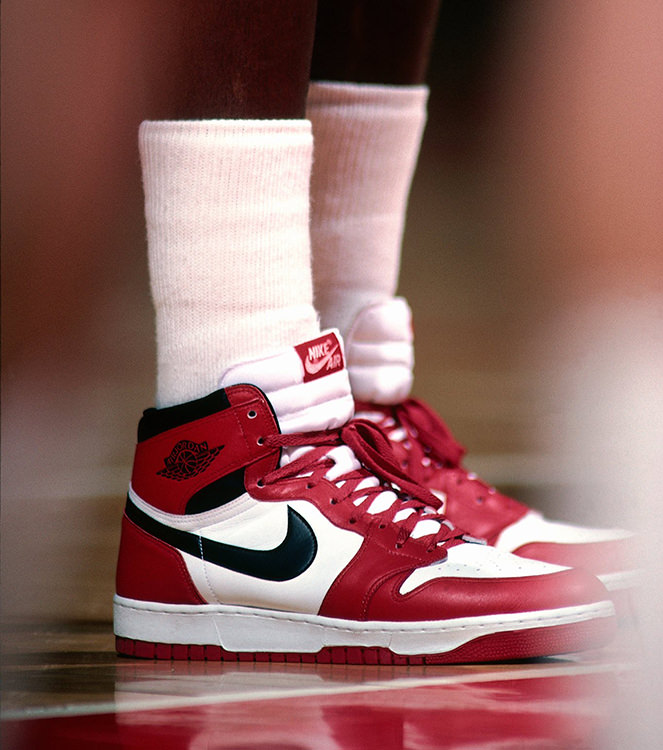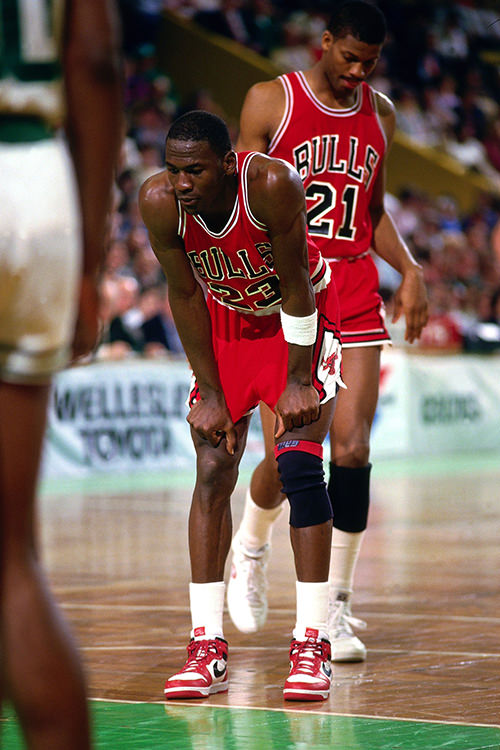 Att Nike inte har släppt dessa som Retro ännu förbryllar mig.
Speciellt nu i denna tid då hypen flyttades över från Air Jordan 1 till Nike Dunk.
Ni kanske tycker att skorna ser ut som ett par Air Jordan 1 bara, men så är det inte, det är ett par Air Jordan 1 med Dunk sula..
Nike, släpp dessa igen, gärna i en massa färger, gärna med SB Dunk tungan.
Air Jordan 4 "Bred"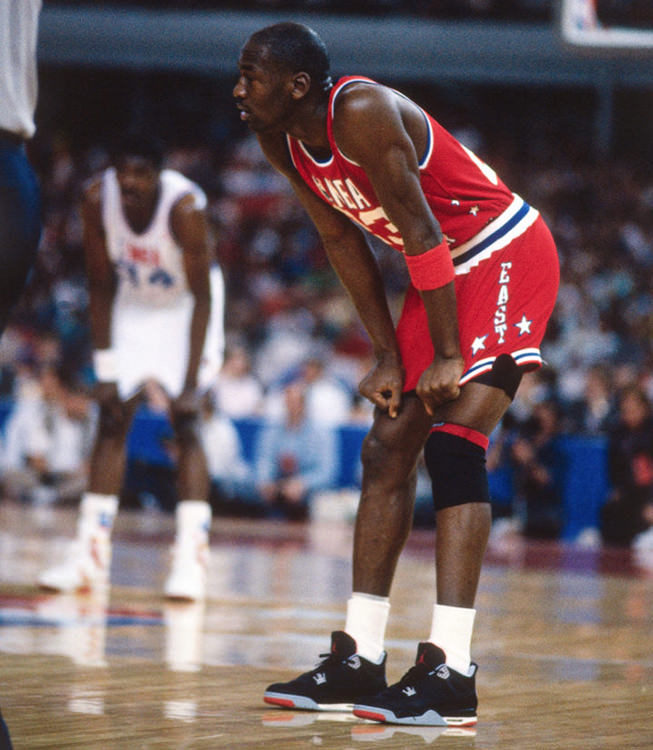 En favoritmodell för väldigt många.
En sko som jag gillar trots att de är svarta, det är bara synd att det senaste släppes är så stela och hårda att jag inte ens vill bära dem.
Men… De är ett måste för mig pga "The Shot"
Unboxing : Nike Air Jordan IV (4) Retro OG 'Bred' 2019 – Style Code: 308497-060
Air Jordan 5 "Black Metallic"
Alla Air Jordan 5 måste ha 3M Reflective sula enligt mig.
Air Jordan 12 "Cherry"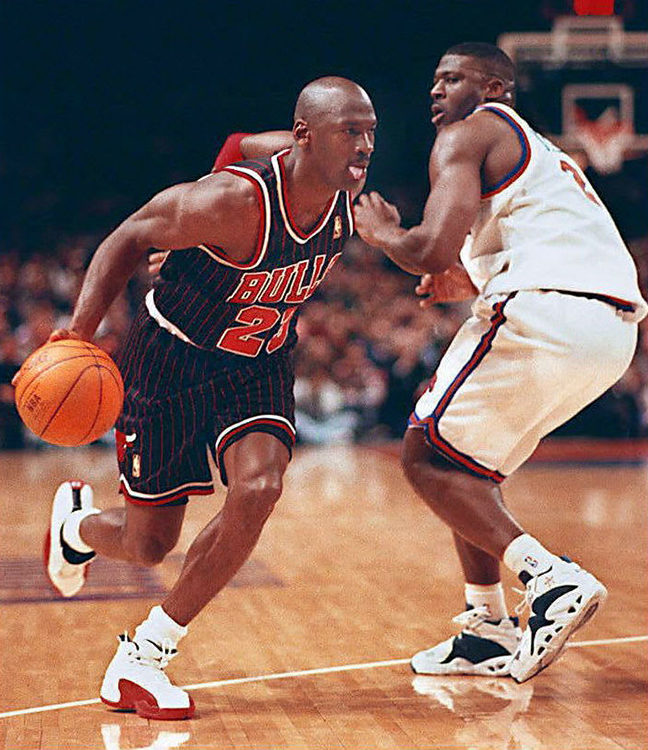 Dagens Sneakers : Air Jordan VII "Bordeaux" Remastered Retro 2015
I det inlägget så är där ett par bra videos om just denna colorway av 7an.
Air Jordan 6 "Infrared"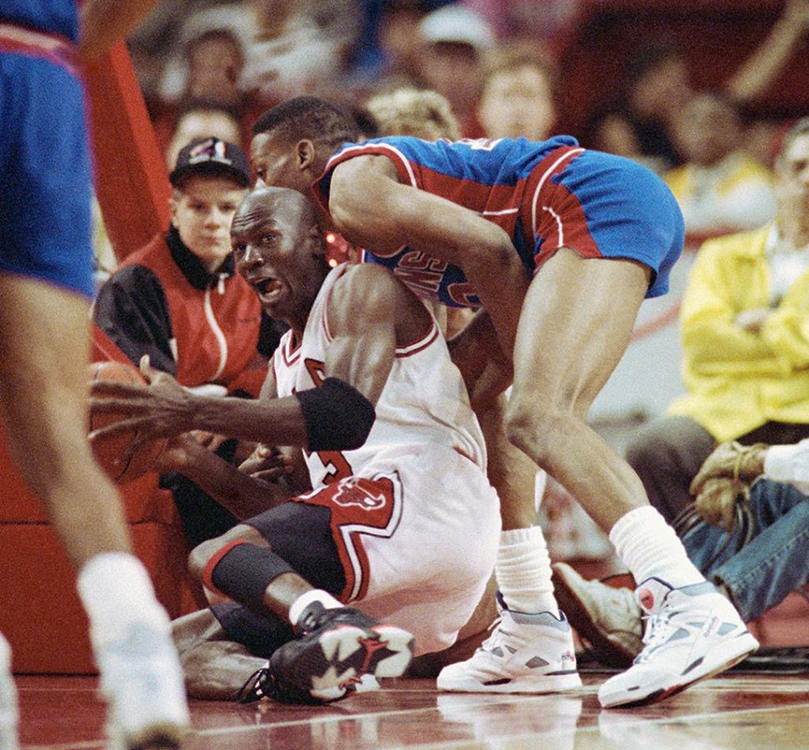 Ännu en sko som ALLA älskar.
De par skor som jag alltid får oväntat många komplimanger för.
Ännu en sko som jag verkligen tycker om trots att de är svarta.
Ännu ett par skor som jag har i flera årgångar och flera par utav samma årgång.
Michael Jordans första mästerskapsring.
Air Jordan 4 "White Cement"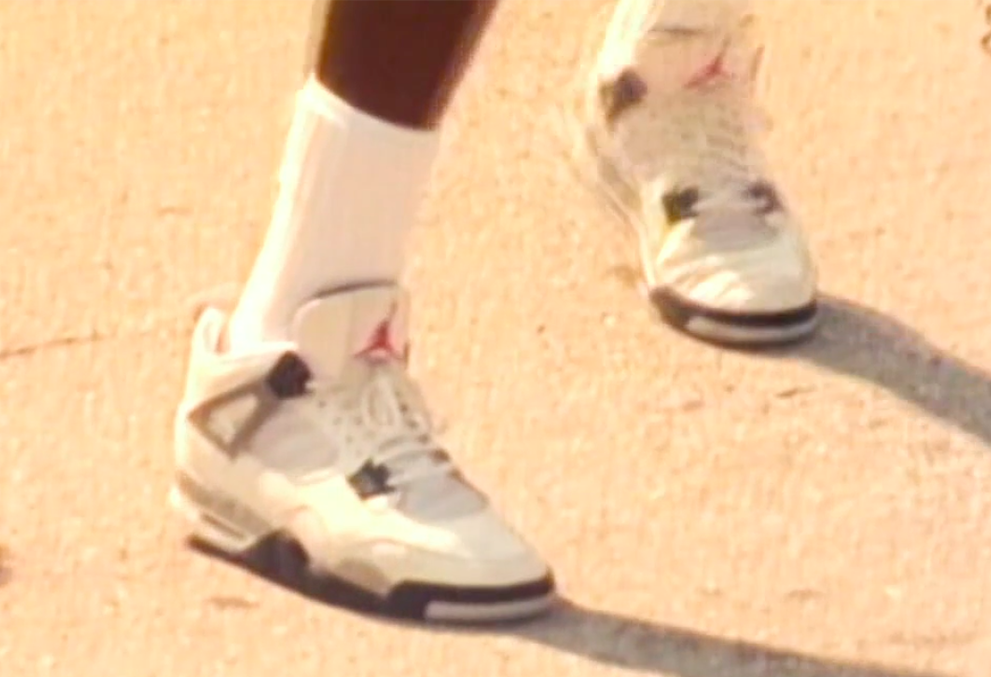 För mig så är dessa utan tvekan de "viktigaste" Air Jordan 4.
Och de som släpptes senast (2016) är riktigt bra!
Så bra att jag har dubblat upp på dem.
Unboxing & Review : Nike Air Jordan 4 OG '89 Retro Remastered– White Cement
Air Jordan 7 "True Red"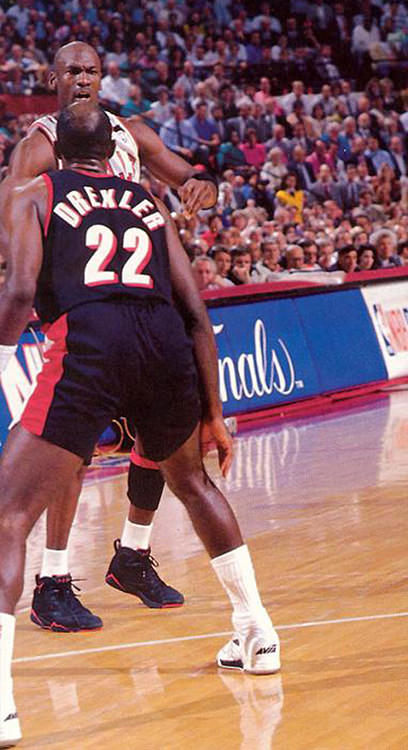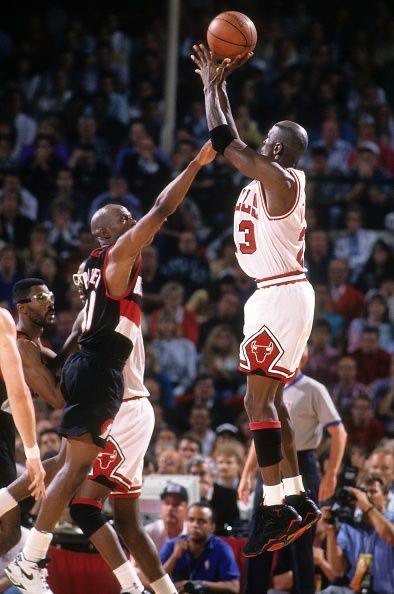 Visa det här inlägget på Instagram
Episode 7
Air Jordan 7 "Cardinal"
Mest för att jag vill visa en av hans flera olika Corvette C4 😉
Nike Air Flight One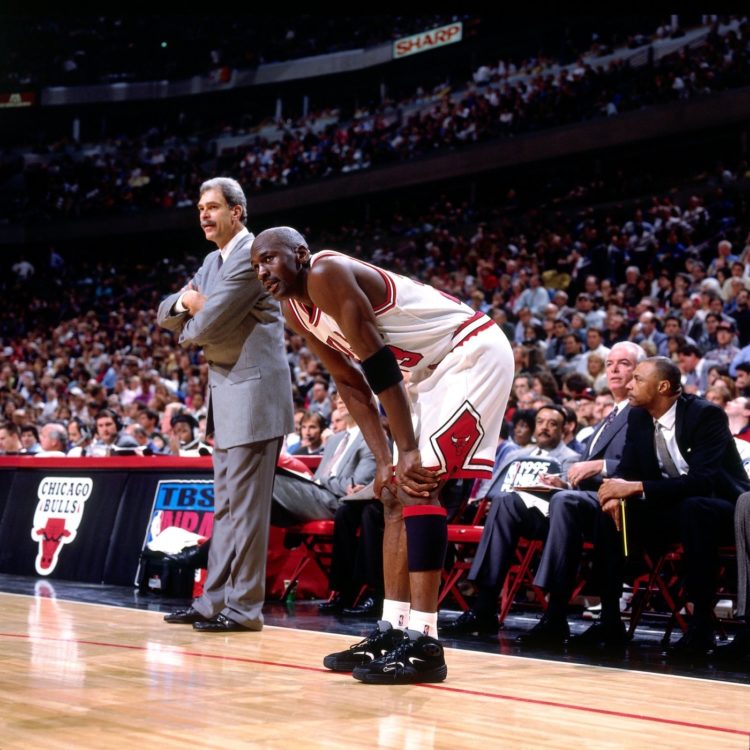 Detta var den ENDA gången som "His Airness" spelade i en annan spelares skor.
Nike Air Flight One var Penny Hardaways modell.
Det finns en väldigt fin story bakom detta, en väldigt oväntat story ifrån en man som Michael Jordan.
Penny Hardaway on the time Michael Jordan wore Air Flight Ones over his own Concord 11s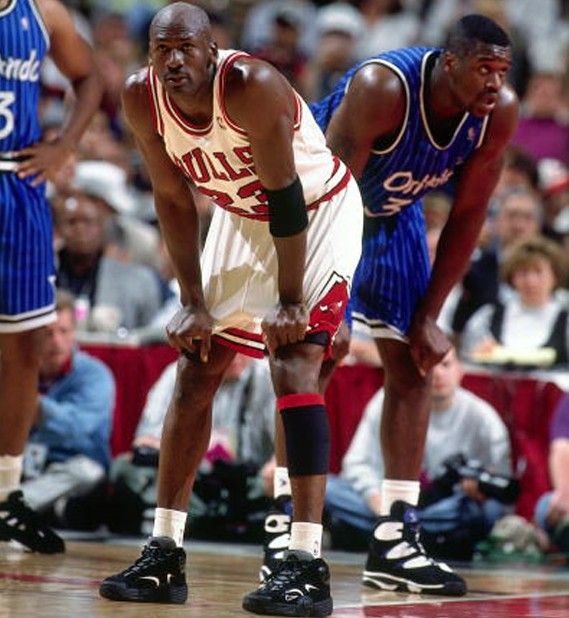 Vädligt unikt, Väldigt fint.
Air Jordan 11 "Space Jam"
En film för hela familjen =)
Skumt att jag inte verkar ha ett Unboxinginlägg om dessa..
Episode 9
Air Jordan 13 Low PE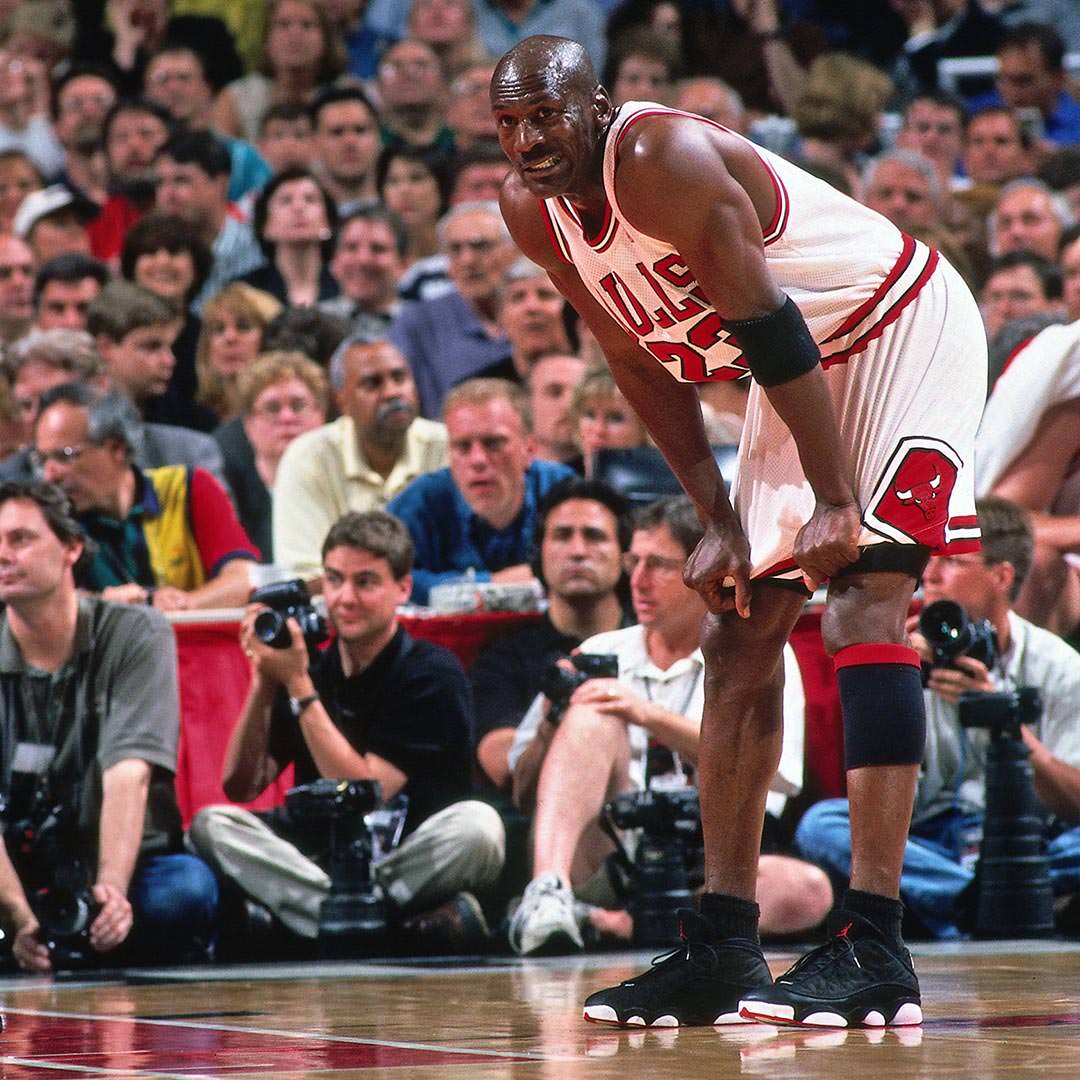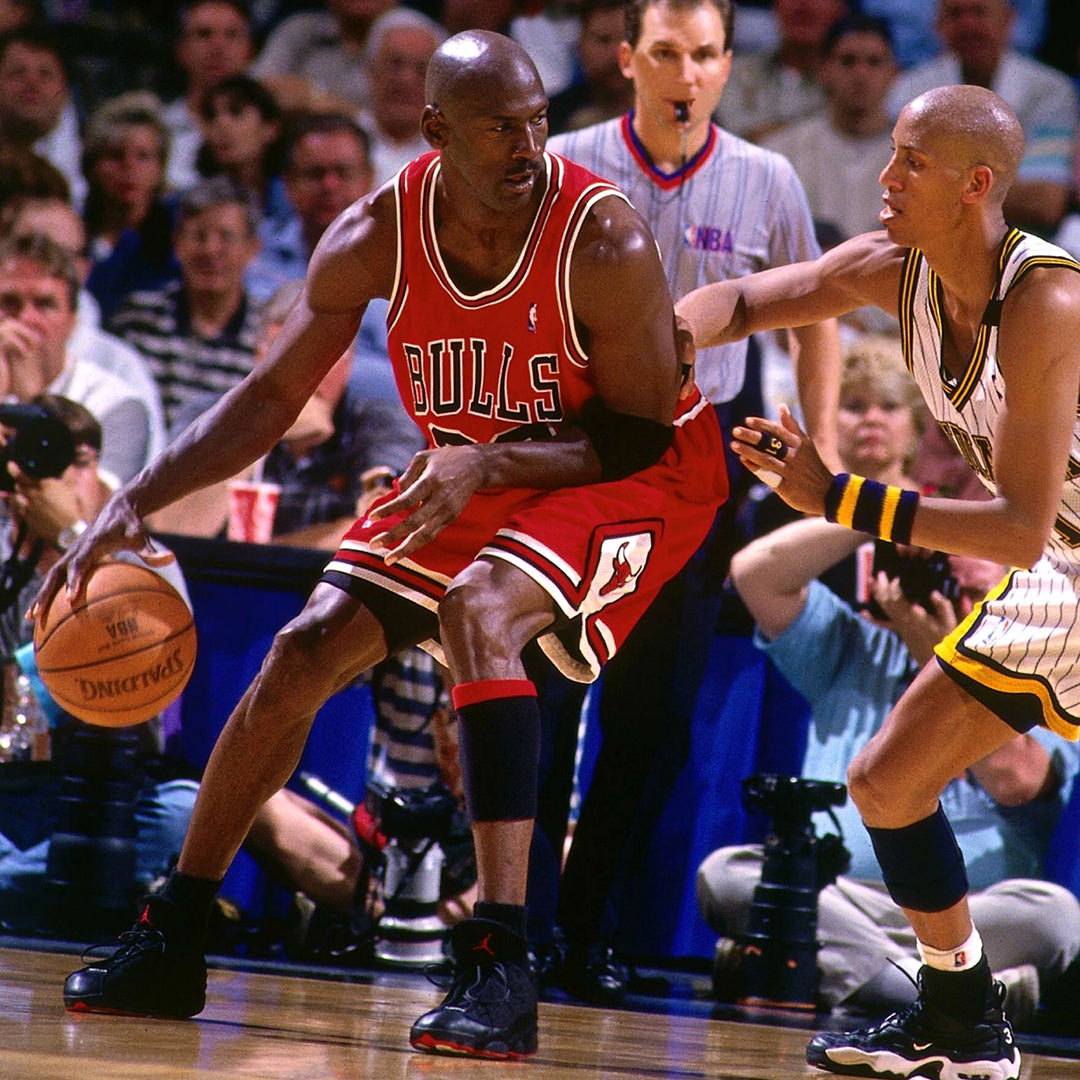 Det speciella med dessa är att detta är ett av väldigt få par skor som MJ spelade i som sen INTE har släppts till allmängheten.
Air Jordan 13 "Bred"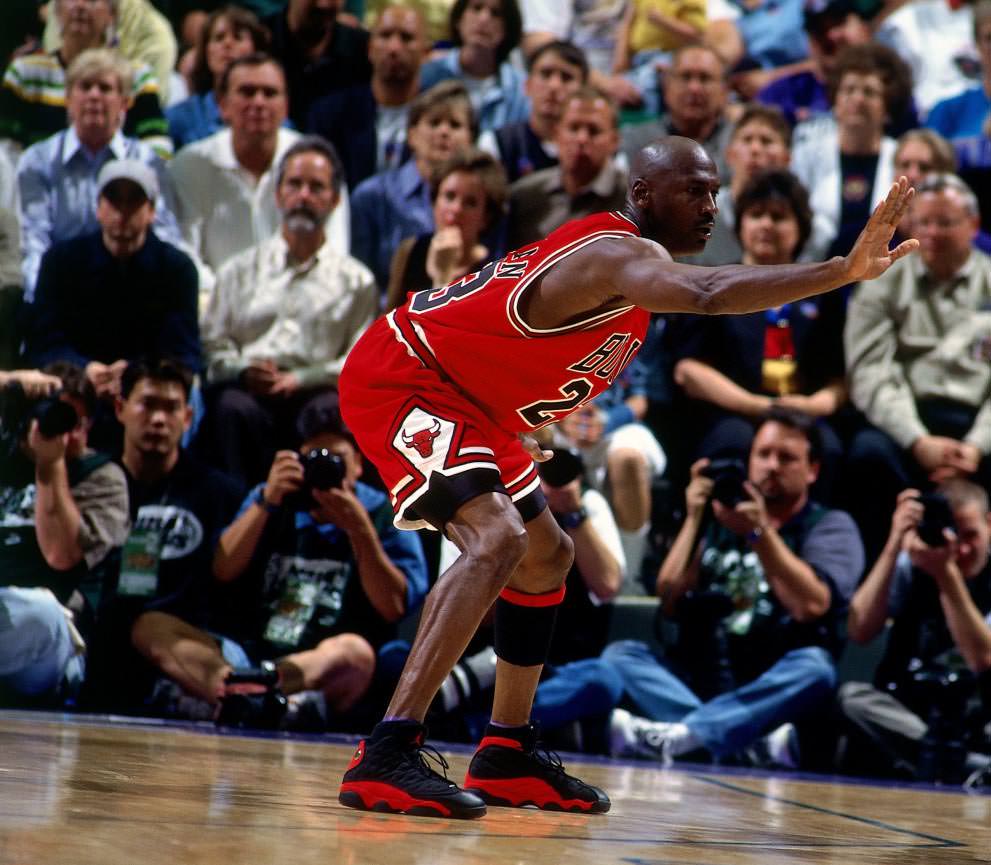 Dessa tycker jag om väldigt mycket!
Skorna som SKULLE vara "The Last Shot"
Släpps dessa igen (ja det är ju bara en tidsfråga) så köper jag ett par till.
Air Jordan 12 "Playoffs"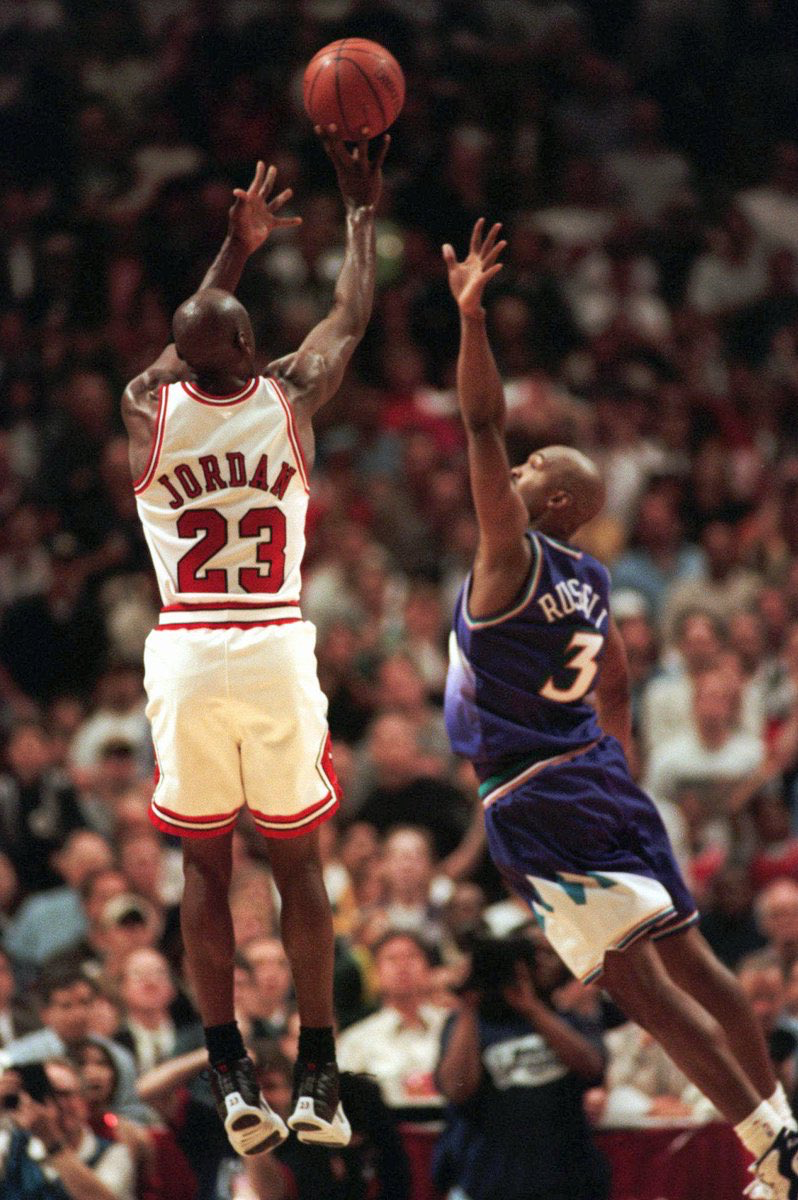 Dessa…. Dessa betyder väldigt mycket för mig av någon konstig anledning.. Flu Game, som egentligen borde kallas för Food Poison Game.
Jag vet inte riktigt varför, men detta är nog de par skor som jag har väntat på mest och som jag har blivit gladast av när jag fick dem i mina händer..
Flu Game, matchen där Michael Jordan visade att han var övermänsklig.
Samtidigt som han visade att han var en gud som kunde blöda..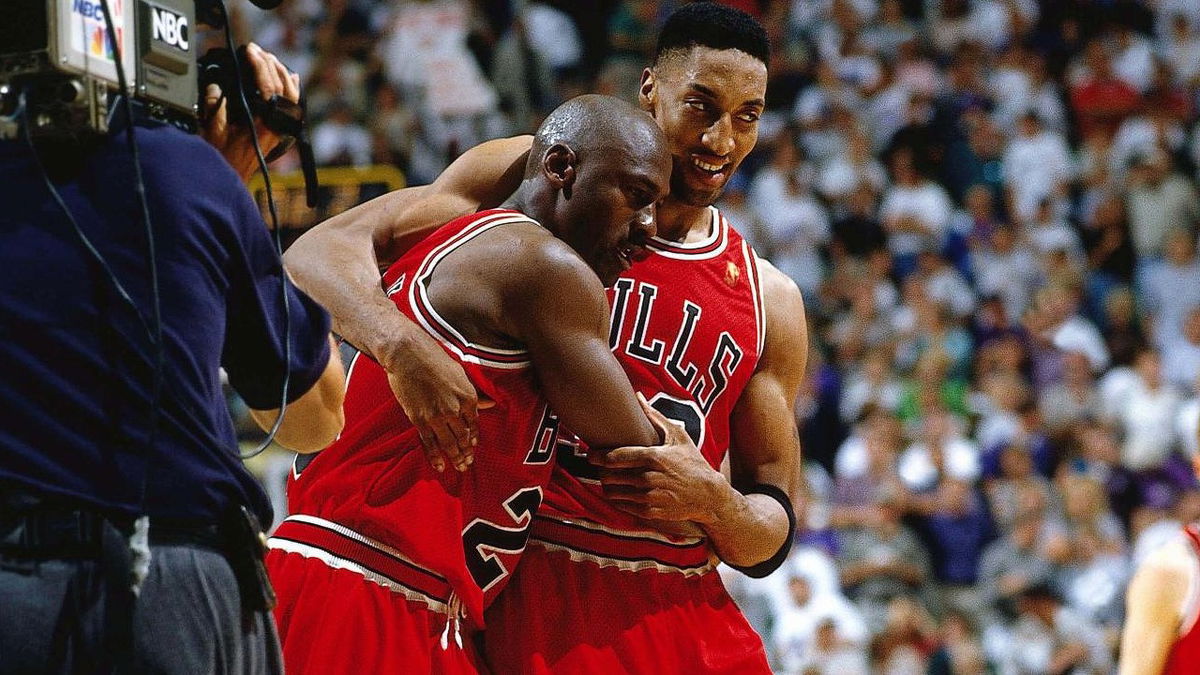 I detta inlägget så har jag samlat alla mina inlägg om "Flu Game".
Episode 10
Unreleased Jordan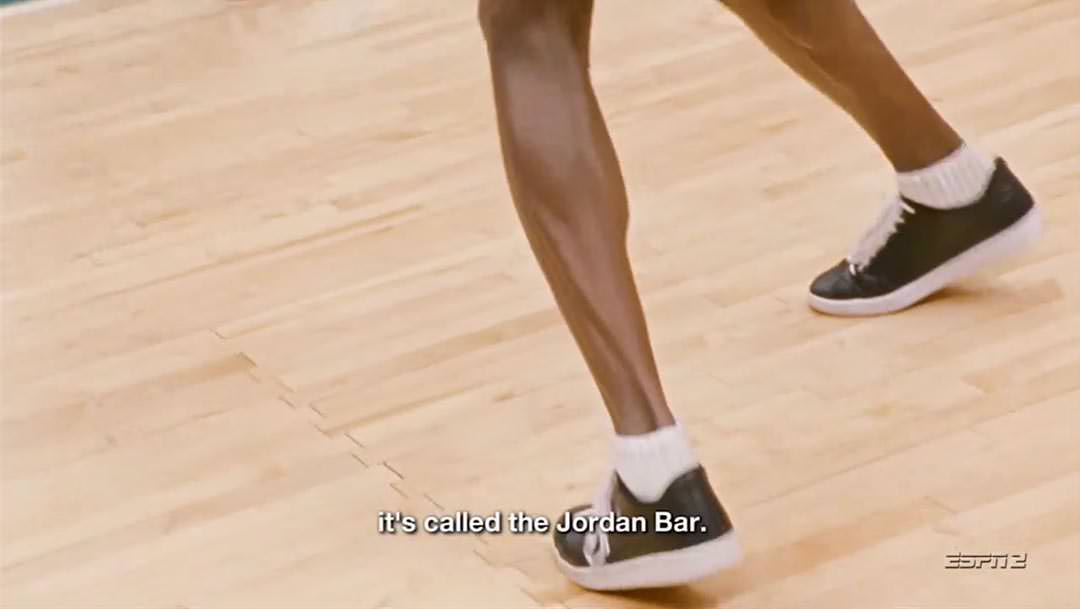 En modell som var före sin tid.
Ni vet alla låga "stiliga" och dyra lyxsneakers som är så inne nu, detta är ett par såna.
Ett par sneaker som du kunde bli insläppt på krogen med.
Air Jordan 14 "Last Shot"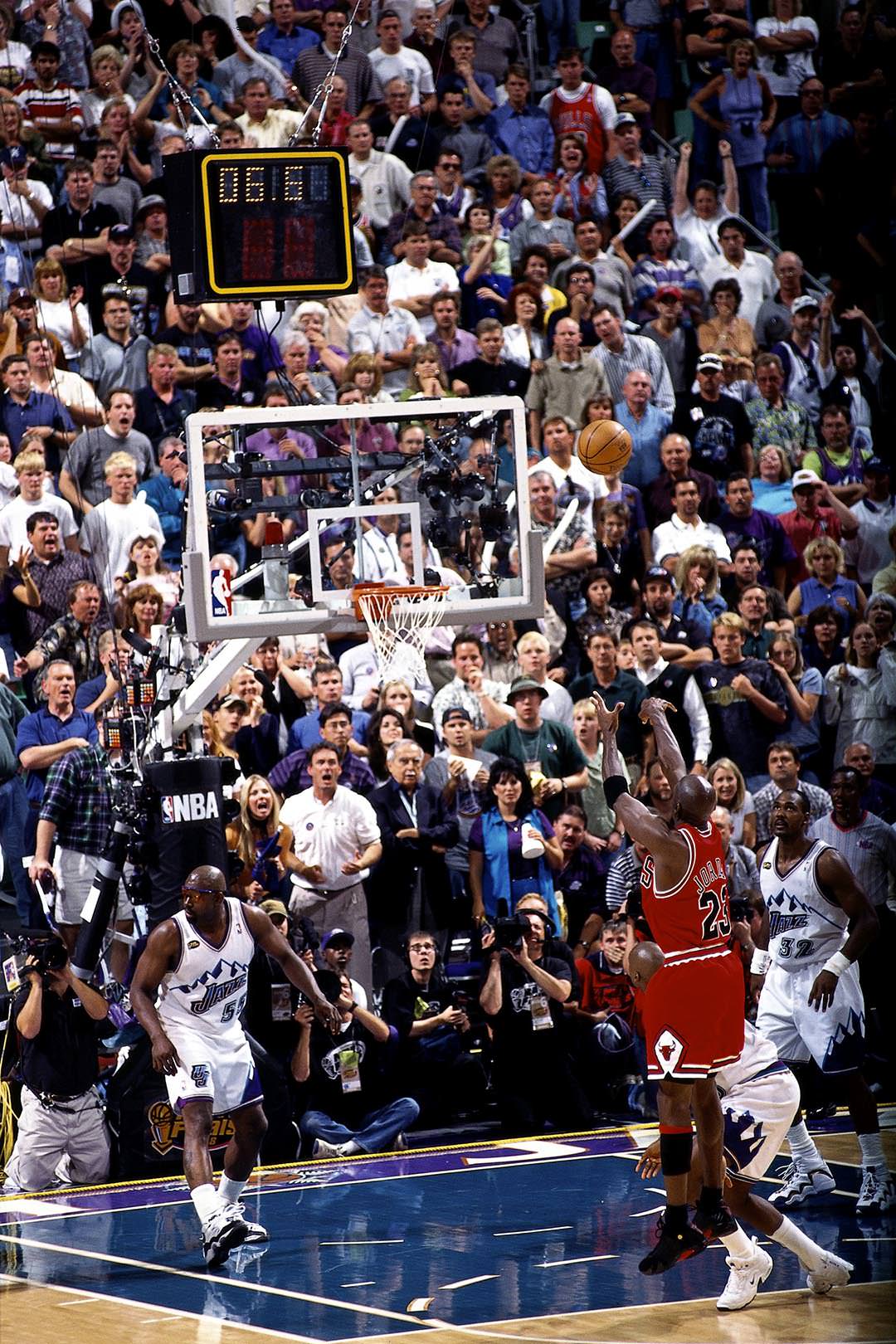 Det voreriktigt coolt om Nike "shock dropped" dessa nu när de sista avsnitten sändes..
Det vore perfekt.
Jordan Centre Court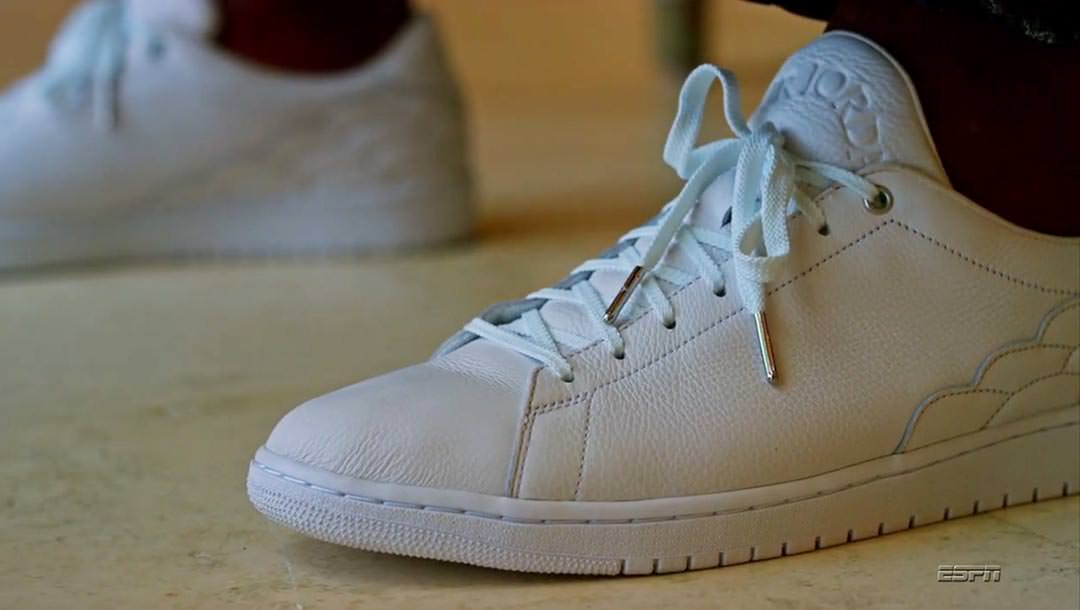 Inget som tilltalar mig, men dessa är väldigt exklusiva, det sägs att det bara finns en handfull av dessa, så de räknas inte ens som "Friends & Family".
Än så länge iallafall.
Thats it..
Vad tyckte ni om dokumentären?
Vilka av dessa skor gillar ni bäst?
Ska jag välja ett par av dessa just nu, så blir det inte samma svar som alltid, det blir för tråkigt (Air Jordan 1 Banned), så därför väljer jag istället dessa
Har ni inte sett denna som nu är världens mest sedda dokumentär så gör det
Top 10 Most Shocking Moments From The Last Dance
We listed every shoe worn in the Last Dance.
Ahead of the 1997-98 season, the Chicago Bulls players sat down for their first meeting and head coach Phil Jackson handed each player a team handbook. In laminated print, it read "The Last Dance". Jackson didn't use this theme to paint a sad picture of a dynasty ending, but to emphasize the importance of sticking together and enjoying every moment on the path to victory. Winning a sixth ring and the journey it entails is hard to put into words. Emotions and pivotal moments don't have the same impact when pasted on to a two-dimensional medium. Luckily, documentary filmmakers were able to capture the experience on film, and over 20 years later, the world was gifted an incredible journey back in time with the ESPN docu-series, The Last Dance.
It was ten episodes of riveting backstories, behind-the-scenes footage, candid interviews, and monumental games. And you better believe there were a lot of shoes.
We watched every single frame of every single episode twice, and the result is a comprehensive catalog of every pair of sneakers featured in the entire epic series. All in all, we identified nearly sixty different pairs worn by stars and role players alike. From Pippen and Rodman to Paxton and Kerr; we even ID'd the kicks worn by Jordan's late security guard Gus Lett. And, of course, the dozens of iconic sneakers worn by the GOAT himself.
Here is every shoe worn in The Last Dance.
The Last Dance Episodes 1 & 2
Contrary to Nike's storytelling, the Air Jordan 1 was not the first shoe worn by Jordan in his breakout rookie season. The Nike Air Ship, which featured similar construction, was Jordan's initial basketball shoe of choice after signing with Nike.
The Jordan 13 He Got Game was a prominent shoe throughout The Last Dance. Jordan played the majority of his final season with the Chicago Bulls in this colorway. The name "He Got Game" was given to this black and white Jordan 13 due to its presence in Spike Lee's film of the same name.
It wasn't always checks over stripes for Michael Jordan. Before Nike was a basketball powerhouse, Converse and adidas stood as the most popular basketball brands. Jordan laced up the adidas Pro Model High while balling out at Laney High, eventually becoming a McDonald's All American.
Under Hall of Fame coach Dean Smith, Michael Jordan led the University of North Carolina Tar Heels to an NCAA championship in 1982. He would wear the Converse Pro Leather Hi in his freshman year, most notably in the championship game when he hit a game-winning jumper in the final seconds.
After being drafted third in the 1984 NBA Draft by the Chicago Bulls, Michael soon became a global phenom for his dominating style of play in the Olympics in Los Angeles. Team USA would win the gold medal with the help of MJ flying high in his Converse Fast Break Mids.
A simple silhouette and colorway that changed everything. From controversial marketing campaigns to the blending of fashion and function, the Air Jordan 1 extended beyond Michael's supernatural abilities and captured the hearts of basketball and style enthusiasts alike.
Jordan 1 Chicago Rehab Sample, as worn by Michael Jordan
When Michael Jordan broke his foot in 1985, he asked the Bulls management if he could return to college until he was healed. Sitting on the sidelines without being able to get in the game ate away at Michael and the Bull's medical staff was adamant that he stay off his foot. So, when he arrived in Chapel Hill, he naturally did the opposite and started to rehabilitate his foot. Michael's rehab wouldn't have been possible without Nike modifying the Jordan 1 to accommodate his needs. The Jordan 1 Chicago Strap was the first modified model that Jordan wore.
Following the strapped model, the Jordan 1.5 Chicago was a cleaner upgrade to the traditional silhouette. Nike was in a process of figuring out what sole was best for Michael's play and one of the solutions they arrived at was taking the sole of the Jordan 2 and adding it to the upper of the Jordan 1.
Jordan 1 (Dunk Sole), as worn by Michael Jordan
What's interesting about Jordan's 63-point breakout game against the Boston Celtics in the 1986 playoffs is that everyone believed he was wearing a normal pair of Chicago 1s. Truth be told, Jordan was still experimenting with different shoe soles. The Jordan 1 Chicago he wore in his Celtics statement game actually featured the sole of a Nike Dunk, which had released the year prior.
Avia 855, as worn by Scottie Pippen
Before becoming the face of the Nike Air Flight family, Scottie Pippen's first sneaker endorsement was from Avia. Pippen would wear the Avia 855 low-top in his debut as a Chicago Bull in 1987.
Avia 822, as worn by Scottie Pippen
Pippen refined his skills as his rookie season progressed. Entering the 1988 Playoffs, Scottie earned a starting small forward position for the Bulls and became one of the main athletes for Avia's 822 basketball model alongside John Stockton.
The Last Dance Episodes 3 & 4
Rookie coach Doug Collins may have been sweating bullets in his first game against the Knicks in 1986, but Jordan came to the rescue and saved the day in his Air Jordan 2s, putting up 50 points and a W.
A shot on Ehlo….GOOD!!! The Jordan 4 Black Cement captures a moment of triumph, when Jordan finally made it to the Eastern Conference Finals in 1989. In the final seconds of a nail-biting game against Cleveland, Jordan came in the clutch and hit the winner. This was the first in a series of unforgettable, cinematic shots over Jordan's long playoff career.
Hard-nosed basketball won the Eastern Conference Finals in 1990 and, unfortunately, Jordan was on the losing end of it once again. The Detroit Pistons had the Jordan Rules in full-effect, meeting MJ in the air on every drive just to knock him down to the hardwood. The Jordan 5 Black Metallic symbolizes the Piston's final blow to the Bulls. From this loss, the Bulls would adopt a new strategy of weight training and perfecting the triangle offense.
New Balance NBX, as worn by Dennis Rodman
The Basketball Gods giveth, and they taketh away. The New Balance NBX can be found at both the peak and nadir of Rodman's career in Detroit. In 1990, he beat the Bulls in the Eastern Conference Finals while wearing the NBX. One year later, he lost to them playing in the same shoes.
The Nike Air Darwin will always be connected Rodman's very public transformation into a transgressive, expectation-defying lightning rod. He wore these shoes while he played for the San Antonio Spurs and earned the title of the NBA's bad boy.
Nike Air Way Up, as worn by Dennis Rodman
Dennis Rodman brought the grit and energy the Bulls needed when he joined the team in 1995. Alongside Pippen and Jordan, Rodman found himself as the third star on arguably the best NBA team in history. The Nike Air Way Up was Rodman's shoe of choice for a majority of the Bulls' 72-10 regular season.
It wasn't long before Nike saw Rodman as one of the biggest players to rock the Swoosh. After the All-Star break in 1996, Rodman received his first signature model: the Nike Air Shake N'Destrukt. He would go on to wear these shoes on his journey to capture his first title as a Chicago Bull.
Converse All-Star 91, as worn by Dennis Rodman
Just in time for the 1997 Playoffs, Converse supplied Rodman with his first signature model: the Converse All-Star 91. The shoe featured a two-tone upper and the likeness of his number #91.
Converse All-Star Rodman, as worn by Dennis Rodman
One unique aspect of the Converse AS Rodman is the graphic that surrounds the classic Converse Star logo. The graphic itself is inspired by Rodman's tattoo surrounding his belly button.
Converse D-Rod High, as worn by Dennis Rodman
Rodman had a habit throughout his career of switching shoes once or twice a season and never going back. The Converse D-Rod High is the first basketball shoe that Rodman wore with multiple teams, including the Bulls, Lakers, and Mavericks.
While Michael Jordan claimed Finals MVP in 1991, John Paxson emerged as the hero in Game 5 after hitting a game-winning three-pointer in his Reebok Pump Omni Lites.
Jordan didn't want to be remembered as just a great player, he wanted to be known as a champion. The road to victory was hard, but in 1991, he rose to the occasion and beat the Pistons and Lakers to capture a championship while wearing his Jordan 6s.
The Last Dance Episodes 5 & 6
Kobe Bryant proved he could shine with the best in the 1998 All-Star game, taking Mike one-on-one in his adidas KB8 (now known as the Crazy 8).
As an ode to his first game in "The Big Apple", Michael Jordan brought back the Jordan 1 Chicago in his final appearance at Madison Square Garden.
Thank god Mrs. Jordan convinced her son Michael to listen to what Nike had to offer. Had he chosen to go with adidas or Converse, the world would have never gotten the Jordan 1 Bred and all of MJ's rookie year highlights would feature shell toes.
Today's Jumpman logo wouldn't be possible without the Jordan 1 Black Toe campaign. Originally, the Jumpman pose came out of a photoshoot of Jordan dunking in some New Balances prior to the 1984 Olympics. Nike wanted to use the pose for Jordan's branding, but the photographer sued them for copyright infringement. So, Nike recreated the shoot. You can't copyright a Michael Jordan dunk.
Don't scuff the J's! In the Spike Lee joint Do The Right Thing, Buggin' Out loses it after he gets his Cement 4s scuffed by a Celtic fan's bike. From then on, the Jordan 4 White Cement carried a new story.
It doesn't take much for Michael Jordan to take something personally. So when the media dared to compare him to Clyde Drexler, Jordan took the Blazers to the cleaners to win his second ring, proving he was on another level. Plus his Jordan 7 Charcoals (would later inspire the Raptor colorway) were way cooler than Drexler's dusty Avia's.
It's not easy being Michael Jordan. Especially when the cameras are zoomed in on your face and not the Cardinal 7s on your feet.
Michael and the Dream Team brought home the gold in the 1992 Olympics. He lit up the world's greatest international players (including Tony Kukoč) while wearing the Jordan 7 Olympic.
Don't let the baggy jeans fool you, MJ got some fits off. Just look at how he styled the subtle Nike Air Pegasus 92 with this colorful patterned fit. Perfection.
MJ wasn't the only product of the 1984 Draft on the Dream Team. Sir Charles Barkley contributed the raw power and craftiness they needed to win the gold. As a part of the Nike family, Barkley spent his time in Barcelona wearing the Nike Air Force 180 Olympic.
Aside from being the shoes Jordan completed the first 3-Peat in, Michael wore the Jordan 8 Playoffs throughout the entire 1992-1993 season.
The Last Dance Episodes 7 & 8
Michael Jordan retired from the NBA in 1993 to pursue a career in baseball. While playing for the Birmingham Barons, he wore the Jordan 9 Cleat, the first Air Jordan geared for the outfield.
Air Jordan 9, as worn by Michael Jordan
During indoor training with the Chicago Whitesox, Jordan hit balls and conditioned in the Air Jordan 9.
Nike Air Swift, as worn by Scottie Pippen
With Jordan absent from the roster ahead of the 1993-1994 season, Scottie Pippen became the Bulls number one option. He would go on to lead the team to 55 wins in the Nike Air Swift.
Jordan 10 Chicago, as worn by Michael Jordan and Scottie Pippen
With the news cameras focused on the Chicago Bulls bench, Scottie Pippen lifted up his foot, pointed to the bottom of his Air Jordan 10 Chicago, and let the world know the Bulls wanted MJ back.
In the final moments of Game 1 in the 1995 Eastern Conference Finals, Nick Anderson picked Michael Jordan's pocket to seal the game. What made matters worse was Anderson chose to wear his player exclusive Air Jordan 10s. A Jordan-on-Jordan crime for the ages.
The Jordan 11 Concord stole the show in the 1995 Eastern Conference Finals. Designed by Tinker Hatfield, the 11 was the first Jordan silhouette to feature patent leather.
Nike Air Flight One, as worn by Michael Jordan and Penny Hardaway
After being fined for wearing his Concord 11s with the Bulls' black uniforms, Michael Jordan paid homage to his opponent, Penny Hardaway, and wore the Nike Air Flight Ones in Game 3 of the Eastern Conference Semifinals. This would be the only time Jordan wore another player's signature shoes.
While filming his upcoming movie Space Jam, Michael debuted the Air Jordan 11 Space Jam on set and during after-hours at his personal training facility.
The Nike Air Max Uptempo is the first basketball shoe to feature a full-length Air Max Unit. A game-changing design feature for a game-changing player like Scottie Pippen.
Pippen wore the Nike Air More Uptempo to close out the Bulls' historic 1996 season and to the 1996 Olympics. Even though this silhouette was not originally an official Scottie Pippen shoe, today it is viewed as one.
The Jordan 11 Bred Playoffs marked Michael's return to the top in 1996 and the beginning of his second 3-Peat run.
The Last Dance Episodes 9 & 10
Reggie made a big mistake in one of his earliest matchups with Michael Jordan when he decided to talk trash. Like his Fire Red 3s, MJ came back in the second half with nothing but fire. Jordan finished the game with 44 points and the win.
Nothing says "Playoffs" like MJ pulling up on a defender for the win. In the 1997 NBA Finals Game 1 final seconds, Jordan and his Jordan 12 Playoffs crossed over Byron Russel to take the win. Unfortunately for Russell, this wouldn't be the last time that Jordan burned him in crunch time.
Thanks to the ESPN series we have new information that cancels the validity of this name. The Jordan 12 Flu Game should be changed to the "Food Poisoning Game 12s", or the "Bad Pizza Game 12s." Side note: Would you eat a pizza delivered by a squad of five pizza deliverymen? Kinda sus.
Nike Air Rise Uptempo, as worn by Steve Kerr
Like John Paxson seven years earlier, Steve Kerr became the unexpected hero of the 1998 NBA Finals. Kerr hit clutch three after clutch three when his team needed them most, all while wearing the Nike Air Rise Uptempo.
Steve Kerr earned his stripes for the swoosh in the Nike Dunk High while hooping at the University of Arizona.
Jordan would alternate between the Jordan 13 Home and Jordan 13 He Got Game as his home shoes during the 1997-1998 season.
To avoid more dress code violations, Jordan complied with the rules and matched his away sneakers with his uniform with the Jordan 13 Bred.
Entering his last postseason, Michael played in the Jordan 13 Playoffs for a majority of 1998 NBA Playoffs.
Nike Air Scorin Uptempo, as worn by Reggie Miller
Reggie Miller proved to be a fierce competitor against Jordan in the 90s. He took the Bulls to a Game 7 in the '98 Eastern Conference Finals while wearing the Nike Air Scorin Uptempo.
Nike Air Zoom Challenge, as worn by John Stockton
John Stockton became a face for Nike in the 90s after proving himself as a star in the league with the Utah Jazz. Unlike the other Nike hoopers who played in basketball specific sneakers, Stockton laced up the Nike Air Zoom Challenge tennis shoes (made popular by Andre Agassi) in the 1997 NBA Playoffs.
Air Max 95, as worn by Gus Lett
Michael Jordan wouldn't go anywhere without Gus Lett. Lett was his protector, friend, and most importantly, a father figure. He was always there when MJ needed him most – regardless of time or place. Since they traveled together frequently, Gus would typically be seen in a pair of comfortable Air Max 95s getting off the plane alongside Michael.
After suffering a severe back injury in Game 6 of the 1998 NBA Finals, Scottie Pippen willed his way to finish up strong and win his sixth ring while wearing the Nike Air Pippen 2s.
Dennis Rodman celebrated his fifth ring in old school style by rocking a pair of Converse Chuck Taylors. Of course he wore them with his signature pajama pants.
In Game 6 in the '98 Finals, Michael wore the Jordan 14 Last Shot as he took the game into his hands and carried Chicago to clinch their sixth title. The shoes received their name from the final shot Jordan hit as he crossed over Byron Russel below the arc and swished a jumper to take the lead in the final seconds of the game. Jordan's game-winner would be his last shot as a Chicago Bull.
Shop the best shoes from The Last Dance below.
https://stockx.com/news/every-shoe-worn-in-the-last-dance/?utm_source=sneaker_bar_detroit&utm_medium=editorial&utm_campaign=every_shoe_worn_in_the_last_dance
(Visited 171 times, 6 visits today)