"Samlarprydnader" kan ses som helt meningslösa.
Speciellt när det kommer till "Leksaker" för vuxna.. som man inte ska leka med.. och som är svindyra.

Men hey.. såna är vi.. samlare.. och det som är dyrt, det är lockande.
Så nu inatt så är jag lite sugen på 2 st Be@rbrick "prydnader" i 1000% storleken.
"Bara för att"

Tanken just nu är att köpa en helsvart och en helvit och ha dem ståendes bredvid mina front-högtalare i vardagsrummet.
(Just den på bilden är av kolfiber och det vore MYCKET coolt att ha!)
Varför en svart och en vit är för att jag har Svart/vitt tema i det rummet.
Det vore absolut coolt med en Bape eller annat kul, men jag tänker att ha dem helt neutrala och sen med ett Supreme Sticker i litet format på bröstet som en BoxLogo tröja =)

Det har jag inte sett någon annan ha (ännu)
Eller Supreme på den ena och LV på den andra..
Vi får se..
Så, vad är då Bearbricks undrar nog de flesta av er, och ni som känner till dem sen innan undrar garanterad vad poängen med dessa är.
Det kan jag ju försöka förklara.
Ja det finns KAWS också, men han gör så mycket mer än bara "dockor" så jag ska försöka att inte gå in på det.
Sen så gillar jag inte KAWS vanliga dockor i heller som ser ut som dödsskallar eller dissekerade kroppar..

Så jag bara klistrar in en enkel beskrivning av KAWS
KAWS

Hailing from Jersey City, based in Brooklyn, Brian Donnelly aka Kaws is one of the superstars of the designer toy, and vinyl collectibles market. Kaws created probably one of the most recognizable pop icons known across the planet with his grafitti, his toys, his books, and in recent years his artwork. A-list celebrities such as Pharrell Williams, Chris Brown, and Seth Rogan collect his toys and art. His Companions have appeared at MTV's Video Music Awards, including a Kaws version of the VMA trophy with his trademark skull and crossbones, with the X'ed out eyes. An image of his Chum, which is a Kaws twist on the Michelin Man appeared in a Franz Ferdinand video. And Kanye West featured the artwork Kaws in his 2008 album 808s and Heartbreaks.

Kaws even in recent years made it to the Macy's Thanksgiving Day Parade, both in the promotional material and as a giant balloon making its way down the parade route. Kaws is the man who catapulted toy collecting for adults out of 40 Year-Old Virgin status to something cool, and beautiful.

Kaws started his career as graffiti artist in Jersey and worked his way across NYC hitting up bus stop ads in the City creating what are now priceless pieces of art transforming Diesel Jean ads, and Calvin Klein ads with his trademark spermazoid with crossbones and X'ed out eyes.

Kaws has now turned his eyes towards the international art scene opening up solo shows in well known galleries spanning the globe.
MEN! KAWS gör MYCKET inom konst och har faktiskt släppt många coola Editions, Star Wars osv osv.. Bland annat med Bearbricks.
Bearbricks är mycket barnsligare och snällare tycker jag.
Jag ser det som en Legofigur med tjock mage och ett nallebjörn-huvud
Sen finns de en tusentals olika editions!
Det som fick mig att vilja ha ett par Bearbricks eller liknande hemma var när jag jag Pharrell´s crib för 7 år sedan, och sen igen när jag visade er "Garage of Bears" för 4 år sedan.
Suck… döda bilder här också =(
Såhär såg det garaget ut iallafall.
Vilket som.. jag har inte kommit till skott fortfarande..
Caliroots har flera gånger haft Bearbricks på REA.. men det blir så svårt att köpa bara en modell, utan att då direkt vilja börja samla..
Så.. en neutral helvit och en neutral helsvart..
Det kan bli bra.
Och det enda som intresserar mig är 1000% storleken.
Ja just det, jag skulle börja med att förklara vad BE@RBRICK är.
Ja som sagt så ser det ut som en mix mellan en Legogubbe och en nallebjörn.
Och dessa nallar har på egen hand fått leksakssamlandet bland unga, rika män att bli löjligt stort och dyrt i modern tid.
Dessa nallar gjorde att det var coolt och "oskuldsfullt" att samla på både konst och leksaker, som man aldrig leker med.
BE@RBRICK´s är idag något alla känner igen vill jag tro, men få känner till "what´s the big deal is"
Speciellt när man hör att resellers säljer dem vidare för flera hundra tusen dollar…
Allt började med ett företag i Japan som heter MediCom Toy.
Ett företag som grundades 1996 just för att göra limited edition figurer och licensierade produkter.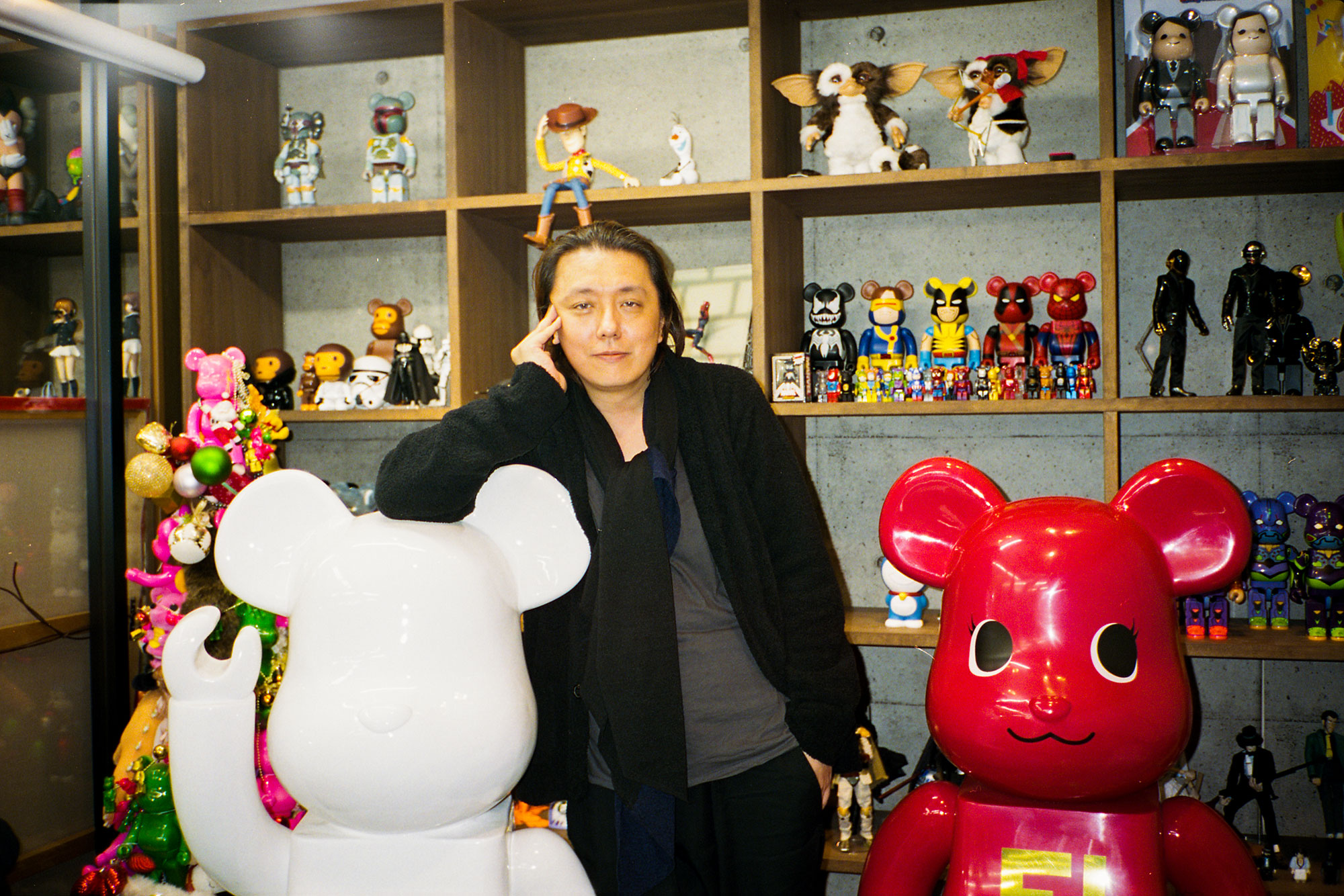 De började med en serie som heter "The Kubrick", som är plastfigurer med en hyllning till Stanley Kubrick, även om de finns i alla möjliga utföranden.

Men det är iallafall licensierade produkter som oftast ser ut som tecknade versioner av något känt.
Bearbricks är en vidareutveckling utav dessa men i ett enklare format då alla ser ut som nallar i formen.
Den första BE@RBRICK gavs bort som en gåva på ett event i Tokyo, en vanlig vit björn med BE@RBRICK loggan.
Dessa var 70 mm långa, och utifrån det så har vi de olika storlekarna.
70 mm är 100%
Så de jag vill ha är alltså 1000% / 70cm.
Jag skulle vilja ha ännu större, men det är väldigt sällsynt och väldigt dyrt om du ser en BE@RBRICK större än 1000%
Men ja.. det finns..

Här är de vanliga storlekarna
50%, 35 mm – Detta är oftast bara nyckelringar.
70%, 50 mm – Denna storleken kom 2006, och sågs som en samlingspryl av de då vanliga 100%…
Det är en liten modell fortfarande och ses som en liten "lucky charm" att ha bara.
100%, 70 mm – Standardstorleken
200%, 145 mm – Detta är en relativt ny storlek som är i metall och väger 400 gram
400%, 280 mm – Detta är den näst vanligaste storleken, detta är den storleken som samlare köper.
1000%, 700 mm – Detta är den största storleken, dessa ses som statyer och är bara för samlare.
Sen så delas de även i olika serier eller typer.
Det släpps 2 kollektioner om året, sommar och vinter, varje serie är numrerad och limiterad.
Jag tror att det är SERIES 34 som vi väntar på nu härnäst.
I varje "SERIES" så är det 4 olika "TYPES"
Basic — Här är det 9 olika designer där varje figur bär en bokstav, samlade så stavar de "BE@RBRICK"
Den figuren med @ brukar vara den mest eftertraktade.
Standard — Denna serien består av olika teman
Artist — Här är det designer framtagna tillsammans med en artist eller flera.
Secret — Inofficiella modeller som är väldigt sällsynta, oftast collabos.
I "STANDARD" serien så är det olika teman som sagt, de vanligaste är dessa.
Jellybean — (Oftast) Enfärgade modeller i genomskinlig plast.

Pattern — Dessa har olika mönster.
Flag — Dessa är dekorerade med flaggor.
Horror — Dessa ska föreställa karaktärer ifrån olika Horror-genrer.
SF (Science Fiction) — Ja namnet säger ju allt.. Oftast ifrån Sci-Fi filmer.
Cute — Ja dessa är helt enkelt "gulliga".. med hjärtan osv.
Animal — Djur.
Hero — Detta är ett rätt så nytt tema som kom i SERIES 21, och är DC Comics figurer.
Alla BE@RBRICKS är limiterade och blir sällan re-released.t
De flesta modellerna kommer i "Blind Boxes", dvs du ser inte vilken nalle som lådan innehåller.
Du kan köpa en låda med 24 st "Blind Boxes" men det innebär inte att du får alla i en serie eller så, utan de är helt random, precis som när man samlade på hockey / Basketkort.
Du får givetvis inte öppna boxen i butiken innan du köper, så ja, det försvårar samlandet av ett helt set väldigt mycket.
Utöver de vanliga två sommar och vintersläppen så kommer det ibland andra släpp, oftast för att fira något eller för högtider.. Alla Hjärtans Dag till exempel.
Alla Serier och Teman är individuellt limiterade och olika sällsynta.
På varje Blind Box så står det hur det ligger till för just det temat.
I dagsläget ser det ut såhär.
Standard BE@RBRICKS
Jellybean — 11.45 %
Pattern — 11.45 %
Flag — 9.37 %
Horror, 9.37 %
SF — 10.41 %
Cute –13.54 %
Animal — 8.33 %
Hero — 7.29 %
Artist BE@RBRICKS — 4.16 % / 1.04 %
Secret BE@RBRICKS — 0.52 %(1/192)
Så de hemliga är mycket sällsynta som ni förstår.
Sen utöver detta så händer det att det blir One-off modeller.. ibland PR-grejer till företag osv, så det är nästintill omöjligt att samla på dem alla även om vissa försöker med detta.
De vanliga släppen är inte svåra att få tag på, de mer sällsynta säljer slut direkt och säljs sen vidare väldigt dyrt.
Några av de mest sällsynta och eftertraktade är de som gjordes tillsammans med KAWS, Chanel, KAWS och OriginalFake.. Ja osv osv osv.
BE@RBRICKS har lyckats med det omöjliga (för att citera min pappa) genom att själva sätta sig i fokus inom flera genrer, konst, mode, kultur och "leksaker".
En väldigt enkel och "snäll" design som har lockat folk ifrån alla åldrar.

Något som alla företag, kändisar och artister vill samarbeta med.
Jag klistrar in ett gammalt inlägg ifrån COMPLEX nedan där de för två år sedan listade de dyraste nallarna som sålts då.
Läs en intervju med skaparen här.
(Visited 2 572 times, 4 visits today)